HOME
Press
Ministry News
Ministry News
Ministry News 상세보기
Outcome of Meeting between Foreign Ministers of Korea and Costa Rica
Date : 2021-03-23 14:49:24
Hit : 2959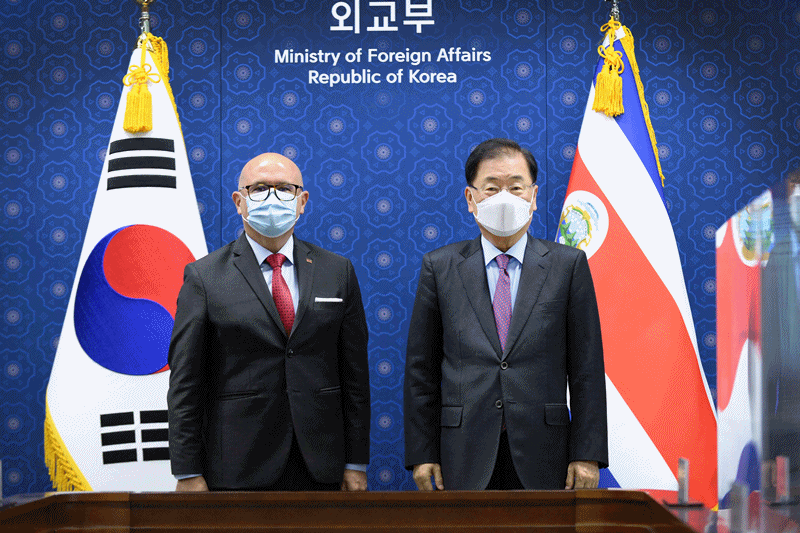 ​
1. On the morning of March 19, Minister of Foreign Affairs Chung Eui-yong had a meeting with Minister of Foreign Affairs and Worship of Costa Rica Rodolfo Solano Quirós, who was on a visit to Korea to attend the Korea-LAC (Latin America and the Caribbean) Digital Cooperation Forum, and exchanged views on Korea-Costa Rica relations, substantive cooperation, cooperation on the international stage, and regional situations.


2. The two sides took note that Korea and Costa Rica, as long-standing friends sharing core values including democracy, peace and human rights, have actively carried out high-level exchanges despite the COVID-19 situation, and agreed to continue working together to further expand and advance the bilateral relations, with next year marking the 60th anniversary of the establishment of diplomatic relations.


o In particular, Foreign Minister Solano extended appreciation to Korea for its solidarity and cooperation in Costa Rica's response to COVID-19.


3. The two sides expressed hope to expand substantive cooperation in such areas as eco-friendly infrastructure and climate change through cooperation between Korea's New Deal policy and Costa Rica's decarbonization plan and digital transformation policy.


o Particularly, Foreign Minister Chung requested Foreign Minister Solano's attention to help the possible participation by Korean companies with technologies and know-how in the project of Rapid Passenger Train in the greater San Jose Metropolitan area (US$1.55 billion) as well as in the project of Digital Treasury for the Bicentennial (around US $ 200 million).


4. Foreign Minister Solano voiced hope to expand high-level exchanges between the two countries to enhance the bilateral relations, and greatly hoped to increase substantive economic cooperation by taking advantage of the Korea-Central America FTA and Korea's accession to the Central American Bank for Economic Integration (CABEI).


5. As this year marks the bicentennial of the independence of Central American countries and the 30th anniversary of the establishment of the Central American Integration System (SICA), the two sides suggested stepping up substantive cooperation between Korea and Central America through cooperation with Costa Rica, which assumes the Presidency Pro-tempore of SICA in the first half of this year.


6. Foreign Minister Chung expressed appreciation to Costa Rica for its continuing support to the Korean Peninsula peace process, and Foreign Minister Solano promised Costa Rica's unwavering support and cooperation.


Next Outcome of Meeting between Foreign Ministers of Korea and Guatemala
Prev Joint Statement of the 2021 Republic of Korea – United States Foreign and Defense Ministerial Meeting ("2+2")