HOME
Press
Ministry News
Ministry News
Ministry News 상세보기
Korea-U.S. Foreign Ministers' Meeting
Date : 2021-03-18 08:56:21
Hit : 3793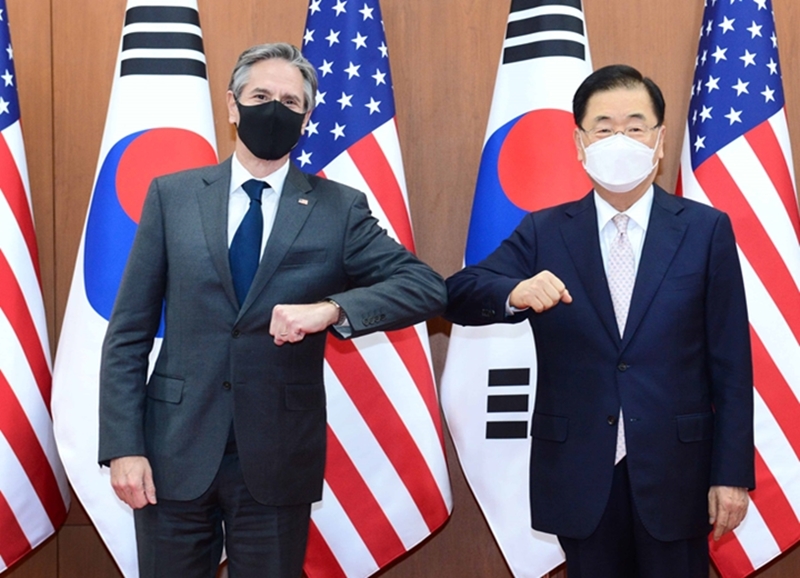 o Minister of Foreign Affairs Chung Eui-yong met with U.S. Secretary of State Antony J. Blinken on March 17 for their first meeting since assuming office. They discussed issues of shared interest, including bilateral relations, the situation on the Korean Peninsula, and regional and global affairs.
​
- Following the expanded meeting, the two sides moved to Minister Chung's office for a one-on-one meeting* to have further in-depth discussions on the situation on the Korean Peninsula. (The expanded meeting was held for 80 minutes, followed by the one-on-one meeting which lasted 25 minutes, for a total of 1 hour and 45 minutes.)
* Attended solely by Sung Kim, U.S. Acting Assistant Secretary for East Asian and Pacific Affairs and Korean Foreign Ministry's Director-General for North American Affairs.
​
o Both sides reaffirmed the ironclad Korea-U.S. Alliance serves as the linchpin of peace, security and prosperity for Northeast Asia, the Indo-Pacific region, and across the world, and exchanged views on ways to continue to further develop Korea-U.S. relations in a mutually beneficial way.
​
- In particular, the two sides agreed to continue close communication to hold a Korea-U.S. Summit at the earliest possible opportunity.
​
o Minister Chung and Secretary Blinken shared the view that the North Korean nuclear issue is a significant matter that needs to be addressed urgently, and had an in-depth discussion on ways for the two countries to work together to make progress in achieving complete denuclearization and establishment of permanent peace on the Korean Peninsula.
​
- Both sides shared understanding that devising and implementing a fully-coordinated strategy toward policy on North Korea are vital and agreed to continue close coordination and cooperation at various levels, including during the process of U.S. policy review on the DPRK.
​
o The two sides shared understanding on the importance of Korea-U.S.-Japan trilateral cooperation, and agreed to continue advancing Korea-U.S. cooperation for peace and prosperity in the region in connection with New Southern Policy.
​
o Moreover, Minister Chung and Secretary Blinken committed to strengthening Korea-U.S. cooperation for promoting shared values including democracy and human rights, and tackling global issues including climate change and response to COVID-19.
​
- The two sides discussed ways to work together on successfully hosting the Leaders' Climate Summit (April 22) and Partnering for Green Growth and Global Goals 2030 (P4G) Summit (May 30-31); combating the COVID-19 pandemic; and collaborating for stronger global health security. The two sides agreed to continue close coordination on these issues.
​
- The Minister and the Secretary also expressed deep concern over the recent situation in Myanmar, and emphasized the need for an instant cessation of violence of Myanmar's military and police, immediate release of political leaders, and prompt restoration of democracy.
​
/END/

Next Joint Statement of the 2021 Republic of Korea – United States Foreign and Defense Ministerial Meeting ("2+2")
Prev Vice Minister of Foreign Affairs Choi Jong Kun Meets with New Ambassador of Australia to Korea