HOME
Press
Ministry News
Ministry News
Ministry News 상세보기
Vice Minister of Foreign Affairs Choi Jong Kun Meets with New Ambassador of Australia to Korea
Date : 2021-03-02 13:37:11
Hit : 5518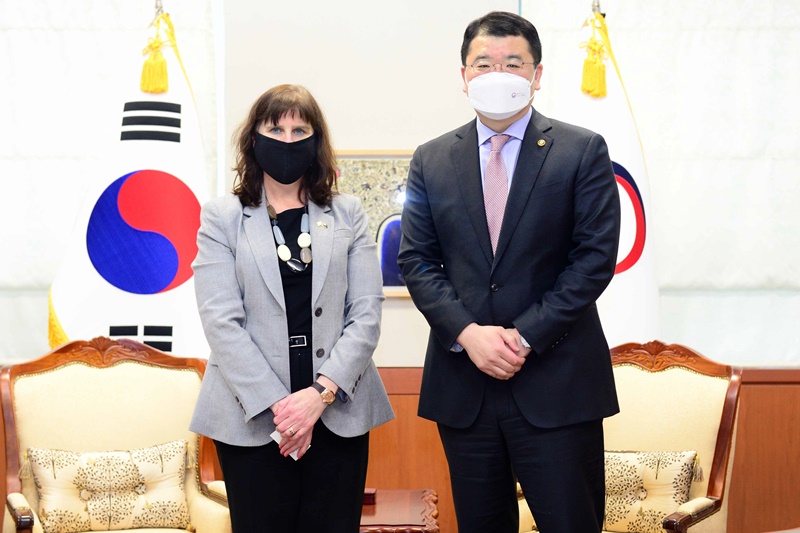 1. Vice Minister of Foreign Affairs Choi Jong Kun met with Ambassador of Australia to Korea Catherine Jane Raper on the afternoon of February 25, and had a broad exchange of views on Korea-Australia relations, cooperation on multilateral issues, and regional situations.
2. The two sides noted with appreciation that since the establishment of diplomatic relations in 1961, the two countries have become valuable partners in a wide range of areas, including diplomacy and security, economic affairs, and culture. They agreed to further deepen and expand their friendly and cooperative relations, with this year marking the 60th anniversary of the establishment of diplomatic relations.
3. Vice Minister Choi expressed hope that while Australia has closed its borders due to the COVID-19 situation, economic and people-to-people exchanges between the two countries would be normalized, taking necessary measures for disease prevention and control.
4. The two sides shared the view that as representative like-minded countries in the region sharing such basic values as democracy and market economy as well as middle-power countries which have cooperated through multilateral consultative mechanisms including MIKTA, the two countries also need to continue to closely communicate and collaborate in various regional and international arenas.
o The two sides appreciated that the ROK-Australia Senior Officials' Policy Dialogue on our support for Southeast Asia and ASEAN was held today for the first time, and agreed to continue to explore the possibility of collaboration between Korea's New Southern Policy and Australia's Indo-Pacific Strategy.
o The two sides shared concern over the political situation in Myanmar, and agreed to continue to work actively together with the international community for a democratic and peaceful resolution of the issue and a release of those detained.
o Vice Minister Choi asked Australia to take an active part in the P4G (Partnering for Green Growth and the Global Goals 2030) Summit to be hosted by the Korean government this year.

Prev Vice Minister of Foreign Affairs Choi Jongmoon Attends Virtual Ministerial Meeting of Alliance for Multilateralism