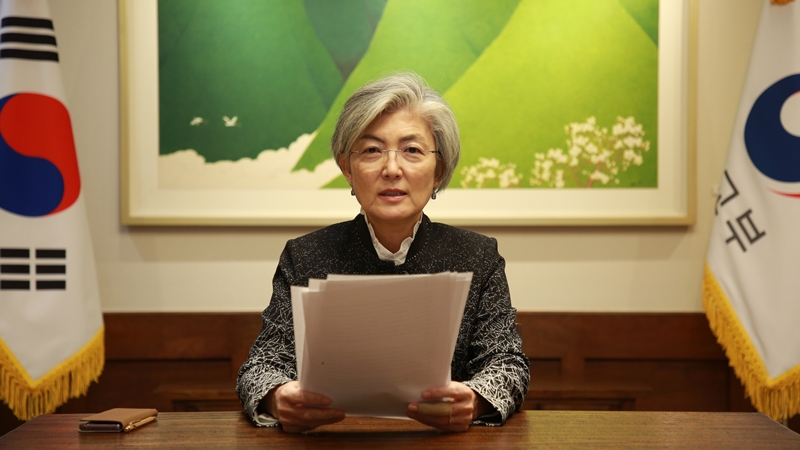 1. Minister of Foreign Affairs Kang, Kyung-wha, at the invitation of Minister for Foreign Affairs of Indonesia Retno Marsudi, attended the 13th Bali Democracy Forum held in a hybrid online and offline format on December 10, and discussed the theme of "democracy and the COVID-19 pandemic."
° The Bali Democracy Forum is a major meeting mechanism on democracy in the region hosted by the Indonesian Ministry of Foreign Affairs on an annual basis since 2008. This year's Forum brought together foreign ministers of about ten countries including Korea, as well as delegates from the United Nations, civil societies and business circles.
2. Foreign Minister Kang stressed that the COVID-19 pandemic should be taken as an opportunity to reaffirm the fundamental democratic principles of accountability, openness and transparency, and that these fundamental values and principles must be restored for democracies to be resilient and better prepared for future crises.
° The Foreign Minister added that, building on its MERS experience in the past, Korea revised relevant laws, pursuant to which it could respond to the COVID-19 pandemic in a more transparent, open and accountable way from the very beginning.
° The Foreign Minister stressed that Korea has also stuck to the principles of transparency and openness to the outside world by fully sharing its experience and knowledge in coping with COVID-19 and calling for steps to ensure essential cross-border movement of people for global economic recovery.
° The Foreign Minister, mentioning that the life of democracy is the debate among the diverse and freely expressed views of informed citizens, emphasized that it is then all the more imperative and urgent for advocates of democracy and leaders in positions of responsibility to fight infodemics, including fake news and falsehood on COVID-19.
3. The participants in the Forum shared the understanding that it is important to uphold values and principles of democracy in overcoming such critical situations as pandemics, and shared individual countries' efforts to safeguard democracy and ways to contribute in that regard.
4. Foreign Minister Kang's attendance at the Forum is seen to have served as an opportunity to further enhance Korea's standing as a leading country in the region in human rights and democracy by sharing the achievements that it has been making in response to COVID-19 while complying with the principles of democracy even amid the COVID-19 pandemic.