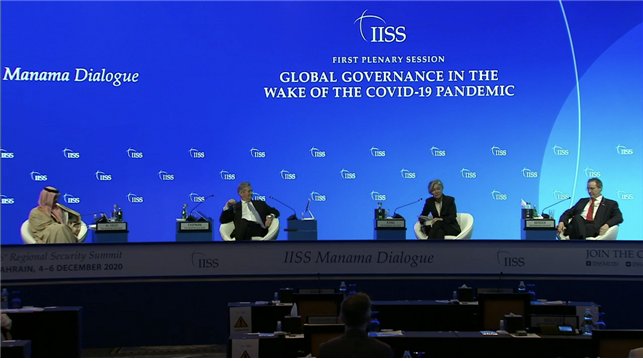 1. Minister of Foreign Affairs Kang, Kyung-wha attended the Manama Dialogue's First Plenary Session on "Global Governance in the wake of the Covid-19 Pandemic" on the morning of December 5 (local time) at the invitation of the International Institute for Strategic Studies (IISS) and delivered a speech on the growing importance and ways of international cooperation since the outbreak of COVID-19 as well as Korea's efforts to contribute to it.
2. In her speech, Foreign Minister Kang diagnosed that COVID-19 has revealed the crisis of multilateralism and at the same time reminded the world of the importance of global solidarity and cooperation, and mentioned that the international community needs to cooperate with each other in responding to COVID-19 as well as new health crises.
o In particular, Foreign Minister Kang stressed the need to ensure equitable access to vaccines and humanitarian assistance for strengthening capabilities in responding to health emergency; make efforts to strengthen the global health governance centered around the WHO; and allow essential travel for overcoming economic crisis, and she shared Korea's efforts in that regard.
o Foreign Minister Kang particularly stressed that in order for Korean companies participating in infrastructure and construction projects in the Middle East to carry out the projects as planned, Korea has continued close cooperation with Middle Eastern countries, including establishing the fast track procedure for business people with the United Arab Emirates (UAE) and discussing exceptional entries for essential personnel with other Middle Eastern countries.
o In addition, Foreign Minister Kang explained Korea's "Northeast Asia Cooperation Initiative for Disease Control and Public Health" as part of regional cooperation to respond to future health crises, and expressed hope that the Initiative would generate positive energy for the Korean Peninsula peace process.
o Foreign Minister Kang also stated that Korea will continue to cooperate with the international community to resolve various issues, including climate change, terrorism, and cybersecurity as well as the COVID-19 pandemic.
3. The participants noted with appreciation that Korea, while maintaining transparency and openness, has been wisely overcoming the COVID-19 situation and making efforts to promote international cooperation amid COVID-19, including ensuring essential exchanges of people among countries.
o In a question-and-answer session, Foreign Minister Kang mentioned that to overcome COVID-19, advanced technology is important but the most fundamental factor is trust, and stressed once again the importance of cooperation among countries in overcoming the pandemic, including sharing scientific and accurate information.
4. Foreign Minister Kang's speech at the Manama Dialogue, held with high-level officials, academics and experts from the Middle East and other parts of the world who attended online and offline, served as a good opportunity to stress the importance of cooperation and solidarity amid the crisis of the multilateral order caused by COVID-19 and express Korea's commitment to making global contributions to the international community including the Middle East.