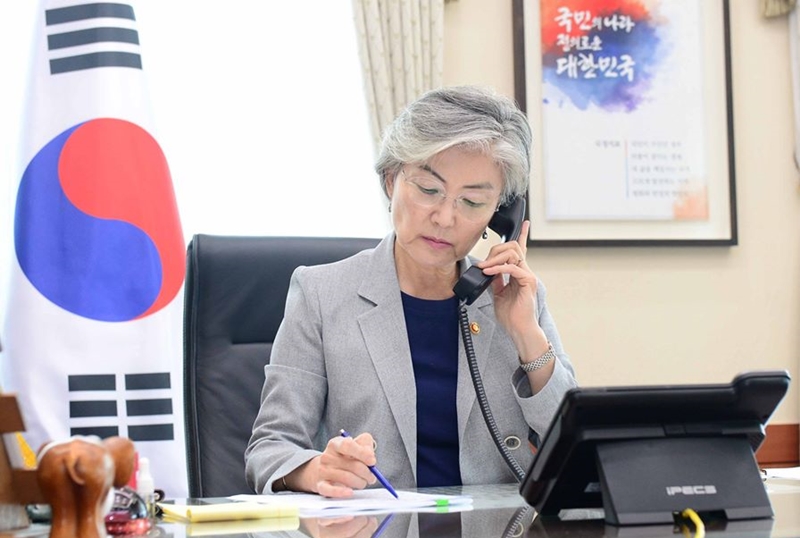 1. Minister of Foreign Affairs Kang, Kyung-wha spoke over the phone with Minister of Foreign Affairs of the Federal Republic of Nigeria Geoffrey Onyeama on the afternoon of August 26 at the latter's request, and discussed various issues including maritime security cooperation in West Africa, COVID-19 response, and the selection for World Trade Organization (WTO) Director-General.
2. Minister Kang said that with the recent rise of piracy in seas off West Africa, there have been a series of piracy incidents, among which a few Korean nationals were kidnapped and released, and encouraged Nigeria, a coastal country, to take active measures to strengthen maritime security. Minister Kang suggested that the two countries continue efforts for bilateral and international collaboration on this issue.
o Minister Kang expressed appreciation to Minister Onyeama, mentioning that five Korean nationals who were abducted in waters off Benin and released on July 24 were able to return home safely on August 23 with the support of the Nigerian government. She went on to urge the Nigerian government to respond more actively to piracy in West Africa so that incidents of piracy against Korean nationals can be prevented.
o Minister Onyeama commended the government of the Republic of Korea for cooperating with countries in West Africa, including Nigeria, to enhance maritime security in the region. He said that Nigeria will also exert efforts to prevent the damage caused by piracy, and stressed the need for collaboration with the international community, including other coastal countries.
3. Minister Kang said that she is glad to see Minister Onyeama resume work after testing negative for COVID-19 following treatment, and expressed hope that the ROK's humanitarian assistance for Nigeria's COVID-19 response had been helpful.
o Minister Onyeama expressed appreciation for the ROK government's humanitarian assistance and support regarding COVID-19 quarantine activities, and hoped that the two countries would continue cooperation to put an end to COVID-19.
4. The two Ministers, saying that both countries have nominated competent candidates for the next WTO Director-General, hoped that the two candidates would compete in good faith in the upcoming selection.
diplomatic horizon to the Pacific region by stepping up substantive cooperation with PICs.