HOME
Press
Ministry News
Ministry News
Ministry News 상세보기
Minister of Foreign Affairs Attends Global Vaccine Summit 2020
Date : 2020-06-06 09:24:37
Hit : 15270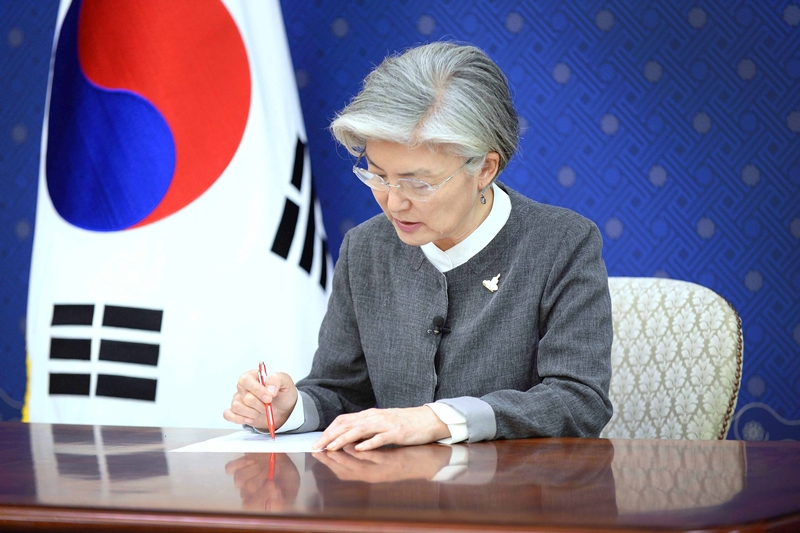 1. Minister of Foreign Affairs Kang, Kyung-wha attended the "Global Vaccine Summit 2020," held in the form of a video conference at 21:00, June 4 - 01:00, June 5 (Korea Standard Time).

o The meeting was held to raise funds (at least 7.4 billion U.S. dollars) to support Gavi, the Vaccine Alliance's programs for 2021-2025.


2. The Global Vaccine Summit 2020, hosted by the government of the United Kingdom, brought together heads of state and ministers from more than 30 countries, including the Republic of Korea, as well as heads of the United Nations, the World Health Organization, and the Bill & Melinda Gates Foundation. The participants stressed the importance of equitable access to vaccines, which are "global public goods," and expressed their will to contribute to Gavi.


o At the summit, Gavi secured 8.8 billion U.S. dollars in pledges, exceeding the original target of 7.4 billion U.S. dollars, and launched the Covax AMC mechanism (Advance Market Commitment for COVID-19 Vaccines).

3. Regarding the global spread of COVID-19, Minister Kang called for international solidarity and cooperation to develop and distribute vaccines, and said that the ROK, as the first Asian donor that has contributed to Gavi since 2010, is willing to provide 30 million U.S. dollars for 2021-2025.

o In addition, Minister Kang introduced the ROK's leading efforts in responding to COVID-19, including sharing experiences and knowledge and launching Friends Groups for COVID-19 response.
4. The ROK government will participate actively in international collaboration to overcome the COVID-19 pandemic, and continue to contribute to improving global health by supporting the activities of Gavi and other health organizations to develop and distribute vaccines and treatments.

Next Vice Minister of Foreign Affairs Lee Has Telephone Conversation with U.S. Under Secretary of State for Economic Growth, Energy, and Environment