HOME
Press
Ministry News
Ministry News
Ministry News 상세보기
FM Holds Telephone Conversation with UN Deputy Secretary-General
Date : 2020-04-25 11:22:47
Hit : 9352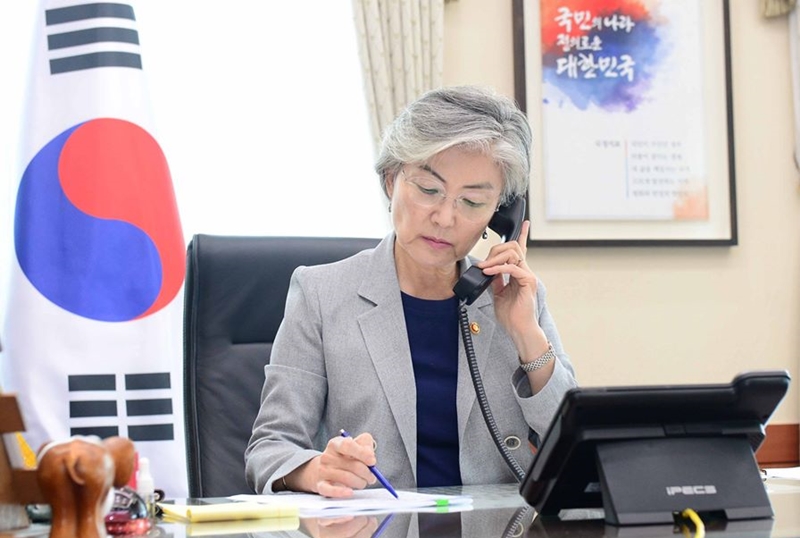 1. Minister of Foreign Affairs Kang, Kyung-wha spoke over the phone with UN Deputy Secretary-General Amina J. Mohammed on the morning of April 23 at the latter's request, and discussed the developments in responses to COVID-19 and climate change.


2. Minister Kang explained that the government of the Republic of Korea has been achieving results in its efforts to stop the spread of COVID-19 based on transparency and expertise in the country, and noted with appreciation that the UN has been making comprehensive responses on its part to tackle COVID-19.


3. Deputy Secretary-General Mohammed stressed that COVID-19 is having impacts not only on public health but also on society and the economy across the world and that particularly, it is important to support developing countries that are vulnerable to it.


4. The two sides shared the view that the importance of global cooperation and solidarity in dealing with global issues, including climate change, in the process of restoring the economy in the post-COVID-19 era is being highlighted more than ever.
5. In particular, Minister Kang expressed hope that the 2nd Partnering for Green Growth and the Global Goals 2030 (P4G) Summit, which has been postponed to next year due to the COVID-19 pandemic, will serve as a stepping stone for the 26th session of the Conference of the Parties (COP26) to the UN Framework Convention on Climate Change, and said that the ROK government will continue to step up efforts to respond to climate change.

Next 6th Teleconference on COVID-19 Response Held among Vice Foreign Ministers of 7 Countries in Asia-Pacific