HOME
Press
Ministry News
Ministry News
Ministry News 상세보기
Telephone Conversation between Foreign Ministers of ROK and Maldives
Date : 2020-04-24 11:21:42
Hit : 8994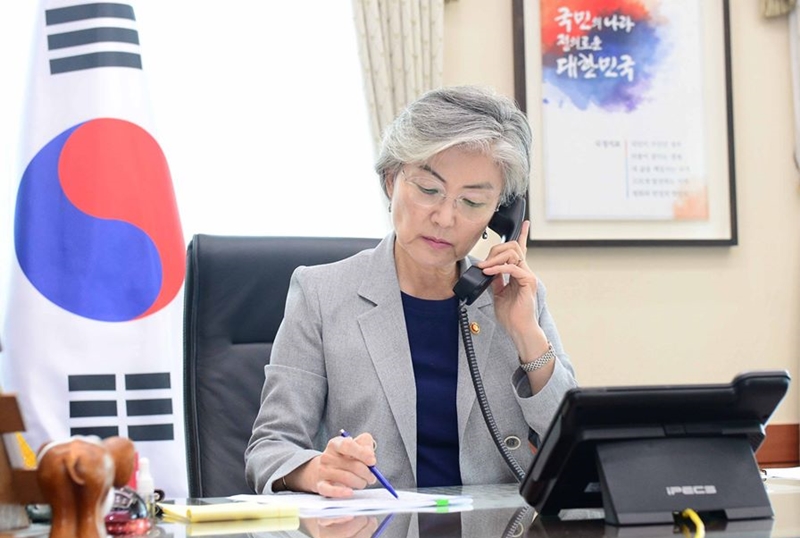 1. Minister of Foreign Affairs Kang, Kyung-wha had a telephone conversation with Minister of Foreign Affairs of the Republic of Maldives Abdulla Shahid on the afternoon of April 22 at the latter's request and exchanged views on ways for cooperation between the Republic of Korea and the Maldives in responding to the COVID-19 crisis, among others.

2. Minister Kang explained that the COVID-19 situation has recently been showing signs of stabilizing in the ROK, but the country, not complacent over the current situation, has been continuing efforts to thoroughly test, trace and treat the infected in order to bring a complete end to the COVID-19 crisis.


3. Minister Shahid commended the ROK's successful response to COVID-19 based on its outstanding disease control capability, explained the situation of the spread of COVID-19 in the Maldives, and voiced hope for cooperation and support in responding to the situation.


° Minister Kang, recognizing the need for cooperation and solidarity among countries in responding to COVID-19, suggested reviewing possible ways for cooperation.
4. Minister Kang asked the government of the Maldives to pay special attention to and cooperate in ensuring the safety and the convenience of the Korean nationals staying in the country. Minister Shahid expressed the will to cooperate actively in that regard.

Prev Telephone Conversation between Foreign Ministers of ROK and Guatemala