HOME
Press
Ministry News
Ministry News
Ministry News 상세보기
ROK-Japan Foreign Ministers' Meeting Held on Occasion of G20 Foreign Ministers' Meeting
Date : 2019-11-23 14:27:15
Hit : 350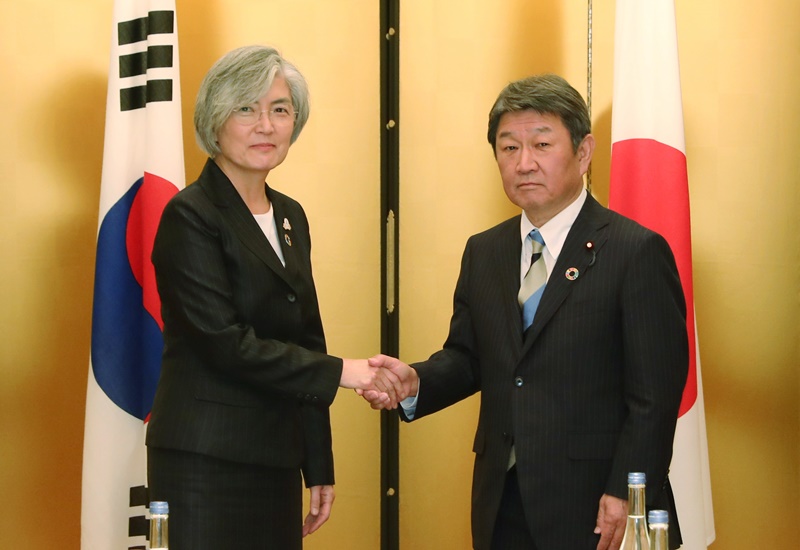 1. On the occasion of the G20 Foreign Ministers' Meeting held in Nagoya, Japan, Minister of Foreign Affairs Kang, Kyung-wha had a meeting with Minister for Foreign Affairs of Japan Toshimitsu Motegi on the afternoon of November 23, during which the two sides exchanged views on matters of mutual interest.
​
2. Minister Kang noted with appreciation that dialogue will resume between the export control authorities, repeatedly underscored in particular the need for the Japanese government to immediately withdraw its export-restrictive measures, and mentioned that the forthcoming dialogue between the export authorities should ultimately lead to the withdrawal of the restrictive measures.

3. Minister Kang and Minister Motegi reaffirmed their shared understanding on the importance of the Republic of Korea-Japan relations and agreed to continue ongoing communication and consultations between the two countries' diplomatic authorities to resolve the forced labor issue.
​
4. The two Ministers agreed to make coordinated efforts to hold an ROK-Japan summit on the occasion of the ROK-Japan-China Trilateral Summit, which is being arranged for December.


Next Minister of Foreign Affairs Attends G20 Foreign Ministers' Meeting
Prev FM Has Telephone Conversation with U.S. Secretary of State