HOME
Press
Ministry News
Ministry News
Ministry News 상세보기
FM Meets with French Minister of State for Digital Sector
Date : 2019-11-08 14:08:02
Hit : 750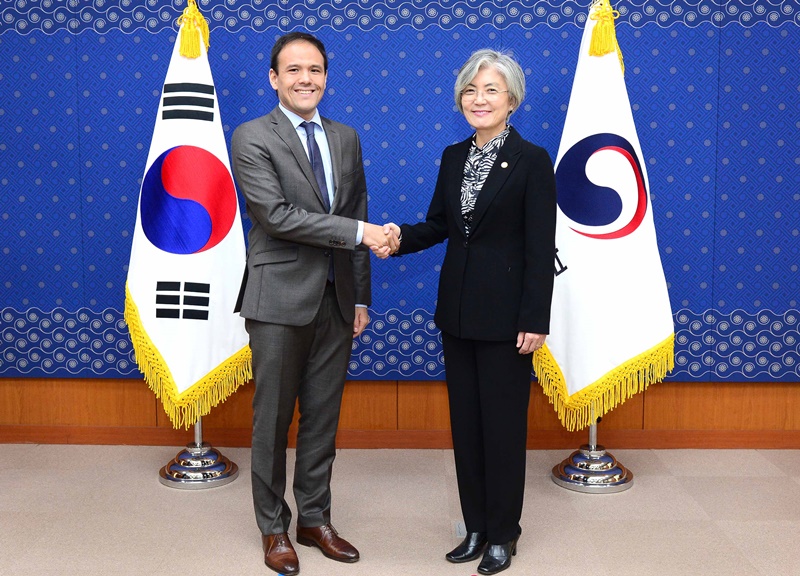 1. Minister of Foreign Affairs Kang, Kyung-wha met with Minister of State for the Digital Sector of the French Republic Cédric O at 17:10-17:40, November 8, 2019, and exchanged views on the Republic of Korea (ROK)-France relations, the situation on the Korean Peninsula, and cooperation on the international stage.


2. Minister Kang noted with appreciation that since President Moon Jae-in's state visit to France in October 2018, the ROK-France relations have deepened in various sectors, and extended appreciation to Minister O, an influential, pro-ROK figure in the French government, for his efforts for continued development of the bilateral relations.

° In response, Minister O mentioned that he will make efforts to promote bilateral communication, including high-level exchanges, for further development of the bilateral relations. Mentioning that the two countries have a great potential for cooperation as leaders of new technologies, such as 5G and artificial intelligence, he suggested that the two countries continue to increase substantive cooperation.


3. Minister Kang asked for France's continued support and cooperation toward complete denuclearization and the establishment of permanent peace on the Korean Peninsula. Minister O commended the ROK government's efforts for peace on the Korean Peninsula.
4. In addition, the two ministers agreed to further step up cooperation in responding to international issues, especially in the areas of climate change, green economy and the eradication of diseases.


Next Opening Remarks by President Moon Jae-in at Cabinet Meeting
Prev FM Meets with U.S. Under Secretary of State for Economic Growth, Energy and Environment and Assistant Secretary of State for Bureau of East Asian and Pacific Affairs