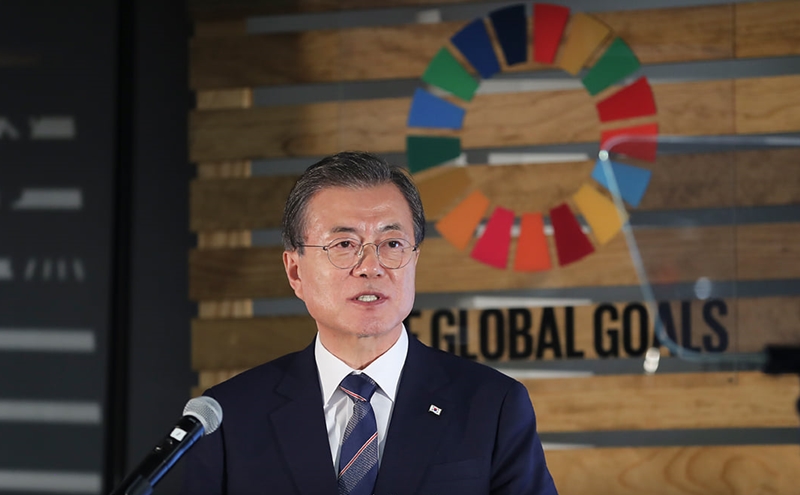 ​
​
​Address by President Moon Jae-in at Preparation Event for P4G Summit
September 23, 2019
​
​
​
​

(Unofficial translation)
Prime Minister Frederiksen and distinguished guests, I would like to extend my gratitude to you for joining us in this event to prepare for the Partnering for Green Growth and the Global Goals 2030 (P4G) Summit.
This year marks the 60th anniversary of diplomatic ties between the Kingdom of Denmark and the Republic of Korea and is also the Korea-Denmark Cultural Year. In this year that commemorates our longstanding relations, I am very pleased that our two nations' governments and private sectors can discuss actions to achieve sustainable development together.
First of all, I congratulate the Kingdom of Denmark on the successful launch of its new Government. The new Danish Government's active endeavors for climate change responses and sustainable development deeply impress the people of Korea, a strategic partner and green growth ally for Denmark. I pay tribute to Prime Minister Frederiksen's flexible and dynamic leadership.
Distinguished guests,
Today at the United Nations Climate Action Summit, I officially declared that the Republic of Korea will host the second P4G Summit next year.
The Kingdom of Denmark has sought a transition to renewable energy since the 1970s and has presented a national vision to phase out fossil fuels completely by 2050. Thanks to the pioneering efforts of Denmark, which is taking the lead in responding to climate change and sustainable development tasks, the P4G Summit has been able to continue.
Denmark and Korea worked together to establish the Green Climate Fund and the Global Green Growth Institute, which are headquartered in Korea. Our two countries stand together in the implementation of the Paris Agreement and the Sustainable Development Goals as well.
Next year, the decade of action for decarbonization will commence. Korea, too, will take part with its action and implementation. Through the second P4G Summit, we will make efforts to ensure that the achievement in the first P4G Summit held last year in Denmark will be further deepened and developed, thereby leading to practical action and success. I look forward to Denmark's proactive cooperation with its experience gained in advance.
The Republic of Korea is drawing up programs to further promote and enhance the basic spirit of P4G – participation and action.
First, we will make the next summit an event to bring together professionals as well as representatives from businesses and civil organizations related to the environmental industry and climate change.
During the first P4G Summit, a total of 17 public-private partnerships were selected for the accomplishment of the Global Goals. This year, 18 public-private partnerships, where Korean companies and institutions participated, were selected. Though it is only launched last year, we have witnessed such achievements as the expanding scope of collaboration among increasingly diverse partners.
The event where private-sector entities will participate on the sidelines of next year's summit will offer a great opportunity to introduce outstanding environmental technologies to participating governments and private-sector partners as well as to exchange technologies among businesses.
Second, we plan to adopt a "Seoul Declaration" by fleshing out differentiated goals and strategies in five sectors such as water, food and agriculture, energy, cities and circular economy.
In the first P4G Summit, the Copenhagen Commitment to Action was adopted. We will upgrade and give more details to the Copenhagen Commitment to Action through the Seoul Declaration. In addition, we will initiate discussions on responses to fine dust, smart cities and the participation of youth and women.
The issues of heat waves, floods, typhoons and poor air quality caused by global warming and climate change have now become serious enough problems to be called "climate crises." All of the countries around the world should now join forces to formulate concrete goals and strategies and take "extraordinary actions."
As the host country, Korea will do everything to create a turning point where all of humanity can take action together and put these goals and strategies into practice.
Distinguished guests,
The Republic of Korea will fulfill its responsibility in responding to climate change and present a growth model for sustainable development, thereby taking the lead in searching for a path toward common prosperity for humanity.
During the process of growing from a developing country into a responsible middle power, Korea gained experience pursuing green growth and sustainable development.
Sharing our experience, Korea will support sustainable growth in developing countries by linking P4G with the Green Climate Fund and the Global Green Growth Institute.
The Republic of Korea proposed the Peace Forest Initiative at the meeting of the Conference of the Parties to the U.N. Convention to Combat Desertification. It is intended to seek joint responses to environmental pollution in border areas through a border commission. As with the case of East and West Germany that achieved peace by building long-term trust, forest cooperation will be a driving force behind the promotion of peace.
Such challenging tasks as climate change responses and sustainable development can certainly be resolved if we share burdens and pull together.
I feel confident that Korea will be able to successfully host the second P4G Summit since Korea's special friend Denmark and all of you are standing with us. We will encourage various businesses and civil organizations to participate in a P4G partnership by strengthening the domestic P4G platform in Korea.
The month of June in Korea is a beautiful time that bids farewell to spring and welcomes summer as spring and summer flowers blossom in harmony. I look forward to seeing you again in Seoul next June.
Thank you.