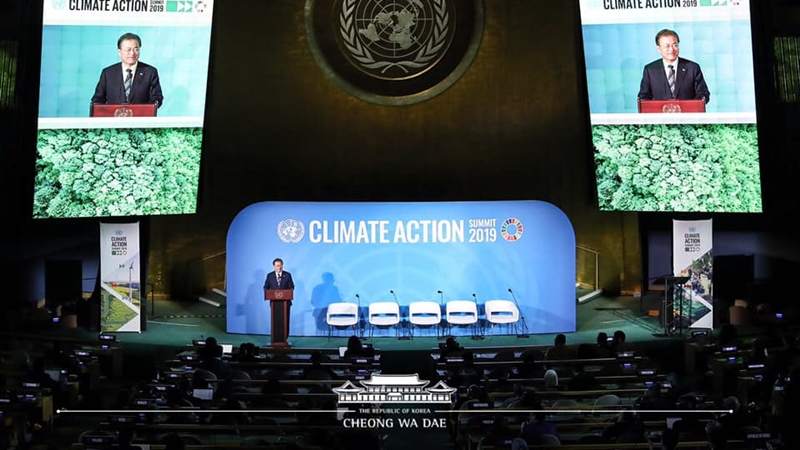 ​
Address by President Moon Jae-in at United Nations Climate Action Summit
September 23, 2019

(Unofficial translation)
Honorable Secretary-General and representatives from member states,
In the lead up to the implementation of the Paris Agreement in 2020, it is very meaningful that we have come together to find ways to put it into practice through action.
The Republic of Korea is joining multilateral efforts to strengthen the inclusiveness of humanity beyond borders.
Today, I would like to make three pledges and one proposal to the international community for the sake of sustainable development and climate change responses.
First, we will explore a variety of measures for transition to a sustainable, low-carbon economy at the earliest date possible, including the formulation of Korean sustainable development goals (K-SDGs).
The Republic of Korea is faithfully implementing the Paris Agreement. We adopted a nationwide emission-trading system for the first time in East Asia. We shut down four coal-fired power plants, and six more plants will be closed by 2022. This past January, the Korean government made public a hydrogen economy roadmap. We are also promoting the expansion of renewable and hydrogen energy use.
These commitments by Korea will be actively incorporated in the Nationally Determined Contribution and the 2050 Long-term Low Carbon Development Strategy that will be submitted next year.
Second, the Republic of Korea will double its contributions to the Green Climate Fund.
As Korea serves as the chair of the Executive Board of the United Nations Development Programme this year, we will fulfill our responsibilities as a member of the international community. I hope that Korea's contributions will serve as an opportunity to further facilitate the activities of the Green Climate Fund.
Third, I declare that the Republic of Korea will host the second P4G Summit next year.
The P4G Summit, to be held in Seoul next June, will provide an opportunity to strengthen the international community's solidarity behind implementation of the Paris Agreement and the Sustainable Development Goals.
If cooperation between P4G and the Green Climate Fund and the Global Green Growth Institute, both based in Korea, is strengthened, assistance for developing countries will be further increased.
Lastly, I propose the designation of the "International Day for Blue Sky." According to the World Health Organization, more than 7 million people suffer premature death every year due to air pollution. In order to improve air quality, cross-border international cooperation and joint responses are definitely required, including joint research and technological support.
The Republic of Korea is bolstering cooperation with the international community by establishing the National Council on Climate and Air Quality chaired by former U.N. Secretary-General Ban Ki-moon. The international community's joint efforts to improve air quality are a way to usher in a low-carbon era. I call for participation and support from member states.
I express my respect to Secretary-General Guterres for his efforts and leadership in hosting the Climate Action Summit.
Thank you.