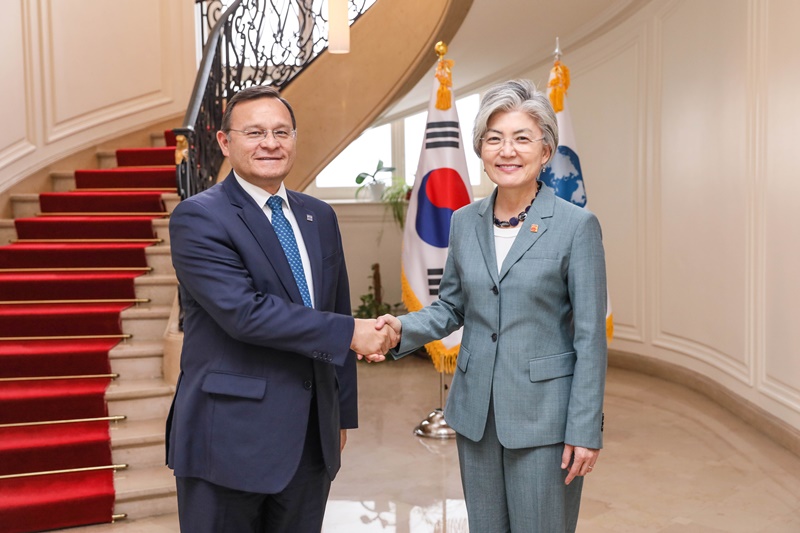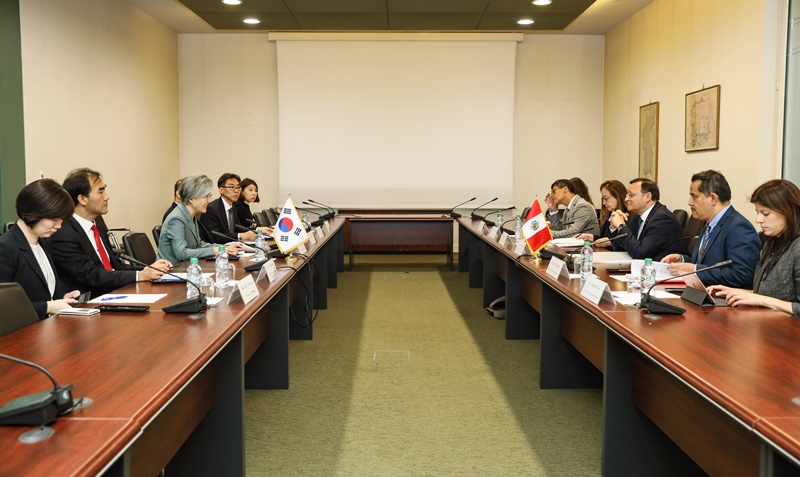 1. During her visit to the French Republic for the 2019 Ministerial Council Meeting (MCM) of the Organisation for Economic Co-operation and Development (OECD) underway in the country on May 22 and 23, Minister of Foreign Affairs Kang Kyung-wha met with Minister of Foreign Affairs of the Republic of Peru Nestor Popolizio on May 22. In the meeting, the two sides discussed economic and substantive cooperation between the Republic of Korea and the Republic of Peru; cooperation on the international stage; and the current situations on the Korean Peninsula and in Latin America.
2. The two Ministers noted with appreciation that since establishing diplomatic relations in 1963, the ROK and Peru have greatly advanced their friendly and cooperative ties in the areas of political affairs, economy and substantive cooperation, including by bringing into force the bilateral FTA in 2011 and building comprehensive strategic partnership in 2012.
° The two Ministers agreed to continue efforts for the lately growing bilateral economic cooperation to expand to new growth areas, such as smart cities and the e-government system.
° In particular, Minister Kang asked that the government of Peru, which is currently holding the presidency of the Pacific Alliance (PA), cooperate actively on the ROK's bid to become an associate member of the PA. She also asked the Peruvian government to pay attention to and support Korean companies seeking to take part in the Peruvian government's major infrastructure projects, including that for the construction of the Chinchero international airport.
3. Minister of Foreign Affairs Popolizio, explaining Peru's efforts to join the OECD, extended appreciation to the ROK for its support. Minister Kang, taking note of close cooperation between the two countries on the international stage, reaffirmed the ROK government's support for Peru's accession to the OECD.
4. Minister Kang explained the current situation on the Korean Peninsula, asking that the government of Peru, a non-permanent member of the United Nations Security Council for the 2018-2019 term, continue to support and cooperate on efforts to achieve complete denuclearization and establish permanent peace on the Korean Peninsula.
° Minister of Foreign Affairs Popolizio, commending the ROK government's leading efforts to establish peace on the Korean Peninsula, reaffirmed the Peruvian government's support. With regard to the current situation in Venezuela, he underscored the need for the international community's attention and efforts to respond to it.
5. The first ROK-Peru foreign ministerial meeting in five years since the one in 2014 is seen to have served as an opportunity to once again review the progress in the cooperative ties between the two countries, to discuss in depth issues of mutual interest, and thereby to seek future-oriented cooperation between them.
* unofficial translation