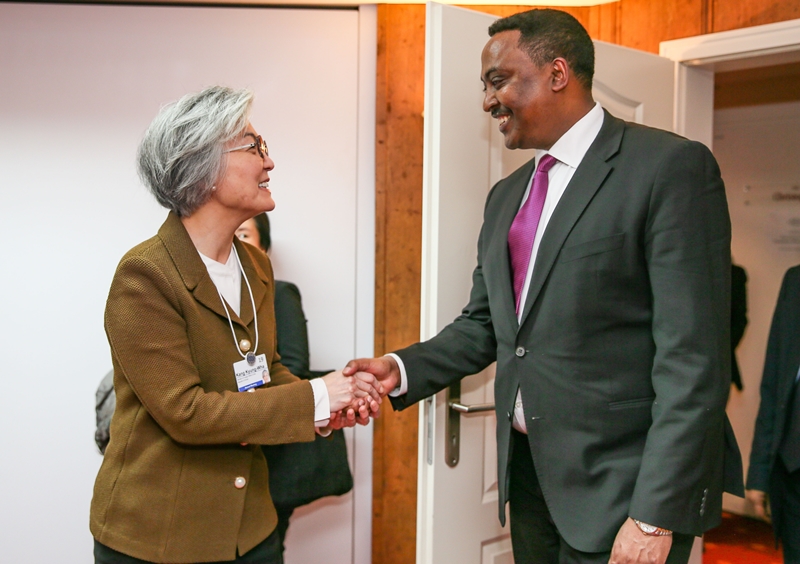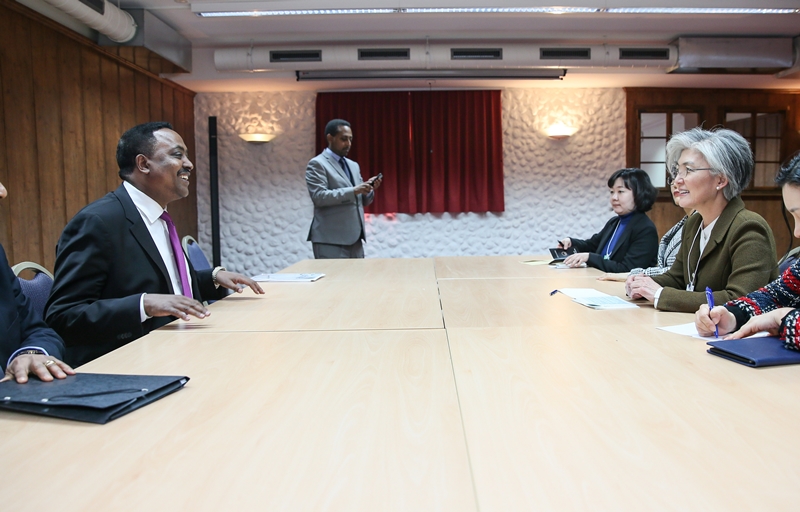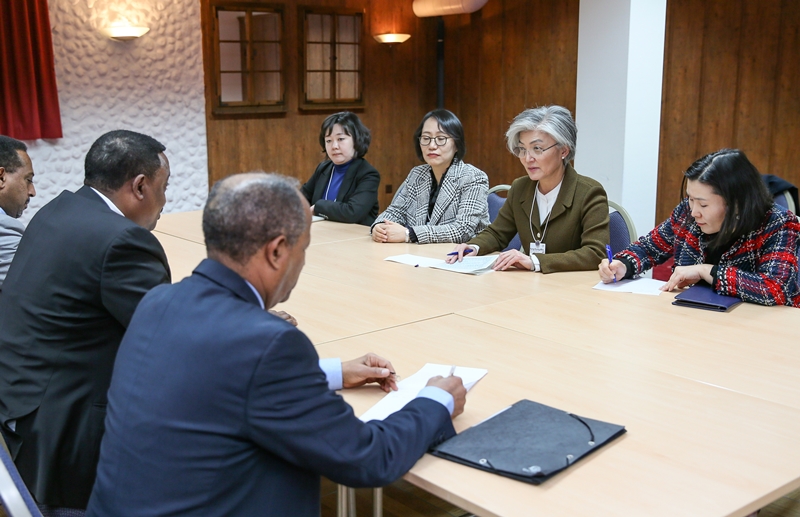 1. Foreign Minister Kang Kyung-wha met with Foreign Minister of the Federal Democratic Republic of Ethiopia Workneh Gebeyehu on January 23 on the occasion of the "Davos Forum 2019," and engaged in a broad exchange of views on issues of mutual interest, including key issues regarding cooperation between the Republic of Korea and Ethiopia, and regional situations.
2. Minister Kang welcomed the Ethiopian government's active efforts to carry out domestic reforms and improve relations with neighboring countries since Prime Minister Abiy Ahmed's inauguration. Minister Kang also hoped to continue to advance the friendly and cooperative relations with Ethiopia, the ROK's major cooperation partner in development cooperation, which fought side by side with the ROK during the Korean War.
o In addition, Minister Kang asked for the Ethiopian government's continued interest and support to make sure that cooperation projects in various areas, including helping Korean companies increase presence in Ethiopia; development cooperation; helping Koreans work for the UN and other international organizations; and supporting veterans, are pursued in a smooth manner.
3. Minister Workneh said that Ethiopia considered its relations with the ROK forged in blood special, and hoped to further strengthen their traditional relations of friendship and cooperation, as well as cooperation on the global stage.
o In particular, Minister Workneh said that Prime Minister Abiy Ahmed, who has extensive knowledge of the ROK, hoped to visit the ROK, and voiced hope that substantive cooperation between the two countries in a range of areas, including economy, development cooperation, and people-to-people exchanges, would further increase.
4. Furthermore, Minister Kang explained the ROK government's efforts to completely denuclearize the Korean Peninsula, and to establish a lasting peace on the Peninsula. She also expressed support for Ethiopia's efforts to build peace in the Horn of Africa, including the signing of a peace agreement between Ethiopia and Eritrea, and hoped to step up cooperation between the two countries in establishing peace in the region.
5. Minister Workneh stressed their shared view on efforts to establish peace in the regions being led by the two countries, and pledged that as a country which fought on the side of the ROK during the Korean War, the Ethiopian government would continue to provide firm support.
※ The Ministry of Foreign Affairs of Ethiopia issued a statement welcoming the inter-Korean summit on April 27.
* unofficial translation