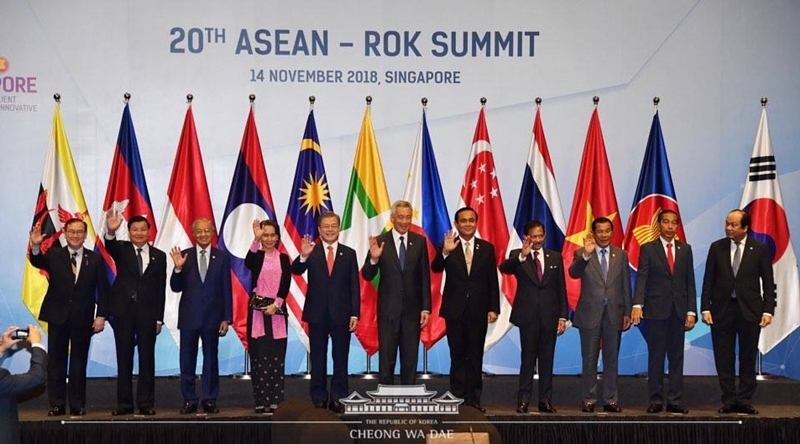 The President Attends 20th ASEAN-Korea Summit
November 14, 2018
President Moon Jae-in attended the 20th ASEAN-ROK Summit held in Singapore today. At the summit, President Moon and other participating heads of state and government of ASEAN members shared ideas about what has been achieved through cooperation and discussed the direction of future developments and the situation on the Korean Peninsula.
President Moon proposed that Korea host an ASEAN-Republic of Korea Commemorative Summit next year to celebrate the 30th anniversary of the establishment of a dialogue partnership between Korea and ASEAN and provide an occasion for accelerating the implementation of Korea's New Southern Policy.
Completely welcoming the proposal, all heads of state and government of the ten ASEAN member states expressed their proactive support. They were also in complete agreement in their desire to see the level of Korea-ASEAN cooperation significantly elevated.
In particular, Indonesian President Joko Widodo suggested inviting Chairman Kim Jong Un of North Korea to the ASEAN-Republic of Korea Commemorative Summit. Noting that the two Koreas' joint participation in the Commemorative Summit would help add to its significance, President Widodo expressed the hope that related efforts would take concrete shape.
In reply, President Moon said, "That's a noteworthy proposal. I will actively examine the possibility provided that the Korean Peninsula is inching further toward peace. To this end, I will engage in close consultations with ASEAN member countries in advance."
In order to advance cooperation between Korea and ASEAN countries along the Mekong River now experiencing rapid economic growth and to provide support in the efforts to reduce the development gap among ASEAN members, President Moon proposed to hold the inaugural Korea-Mekong summit on the sidelines of the 2019 ASEAN-Republic of Korea Commemorative Summit. In response, heads of state and government of the five countries in the region–Cambodia, Laos, Myanmar, Vietnam and Thailand–expressed active support for the proposal and a desire to see the Korea-Mekong summit become a new turning point in Korea-Mekong cooperation.