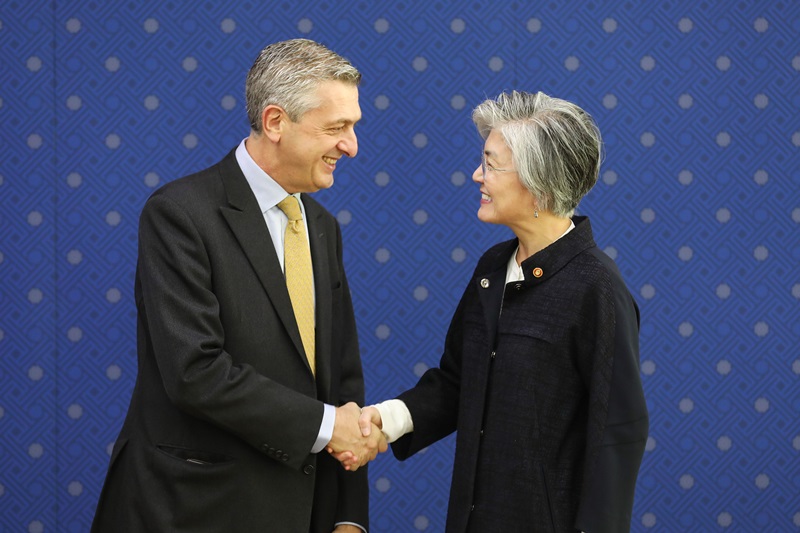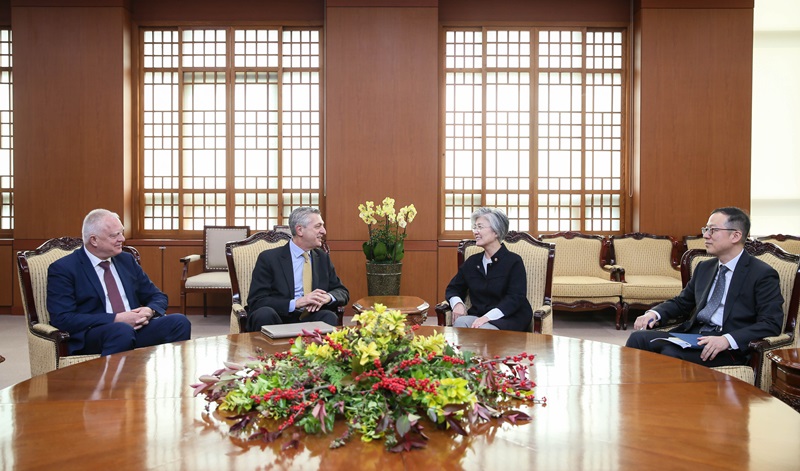 1. Foreign Minister Kang Kyung-wha met with UN High Commissioner for Refugees (UNHCR) Filippo Grandi on October 23, during which the two sides exchanged views on the refugee situations in Asia and the global community and discussed ways that the Republic of Korea and the UNHCR could work more closely together.
2. Minister Kang highly commended the UNHCR's significant role in the protection of refugees across the world, especially its leading role in the efforts to draft "the Global Compact on Refugees," which is set to be adopted by the UN toward the end of the year 2018 with the aim to respond comprehensively to refugee crises.
3. Minister Kang, bringing attention to the great increase in the ROK government's humanitarian assistance to refugees across the world, expressed commitment to continuing cooperation with the UNHCR in responding to the global refugee crisis.
° The Minister also shared with the High Commissioner the outcome of the ROK government's measures concerning the Yemeni refugees in Jeju and exchanged views with him in that regard.
※ The ROK government's humanitarian assistance to refugees stood at US$12.3 million in 2013, US$23.75 million in 2014, US$30.58 million in 2015, US$51.29 million in 2016 and US$63.95 million in 2017.
4. High Commissioner Grandi extended appreciation to the ROK, calling the country one of the new donor countries that have been rapidly increasing contributions to refugees over a short period of time. He went on to express hope to continuously step up cooperation with the ROK, a strong partner in responding to the global refugee crisis.
° In addition, the High Commissioner, citing the fact that the aid from the people of the ROK to the UNHCR exceeded US$30 million in 2017, marking the world's third-largest private contribution, expressed gratitude to not only the ROK's government but also its private sector for attention to and support for the UNHCR activities.
5. The meeting, which took place during the second visit to the ROK by UN High Commissioner for Refugees Filippo Grandi since his inauguration in January 2016, is seen to have served as an opportunity to consolidate the commitment of the ROK, a new donor country, and the UNHCR to working together on the refugee issue, one of the biggest current issues of the international community.
* unofficial translation