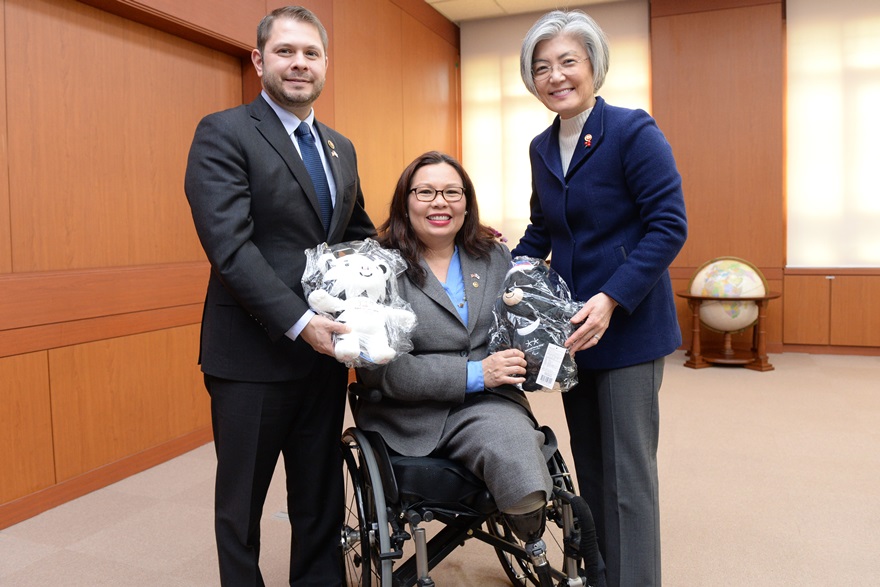 1. On January 15, Foreign Minister Kang Kyung-wha met with Democratic Senator Tammy Duckworth from the US state of Illinois and Democratic Representative Ruben Gallego from the US state of of Arizona, who were on a visit to the Republic of Korea. In their meeting, the two sides exchanged views on matters of mutual concern, including the ROK-US alliance, the North Korean nuclear issue, the PyeongChang 2018 Olympic and Paralympic Winter Games, and issues concerning Korean adoptees in the US.
2. Minister Kang, extending appreciation to the US Congress for its firm support for the efforts to keep the ROK-US alliance strong and to resolve the North Korean nuclear issue in a peaceful manner, asked it to continually and steadfastly back up the work to advance the ROK-US relations and establish peace on the Korean Peninsula.
° The Senator and the Representative expressed firm support for the ROK government's efforts to seek a peaceful and diplomatic solution to the North Korean nuclear issue; called their visit to the ROK an opportunity to reaffirm the ROK-US watertight combined defense posture; and stated that the US Congress will continue rendering assistance as needed.
3. Minister Kang shared with the US lawmakers the outcome of the high-level inter-Korean talks on January 9 on ways to make a success of the PyeongChang Olympics; voiced hope that North Korea's participation in the sporting event, which had been agreed upon at the inter-Korean talks, will be a milestone toward improved inter-Korean relations and progress in the efforts to denuclearize the North; and asked for the US Congress' continued attention to and support for the work to make the Pyeongchang event successful and peaceful Olympics.
° The Senator and the Representative, calling any form of dialogue better than no dialogue at all, expressed support for inter-Korean dialogue and cooperation toward the success of the PyeongChang Olympics.
4. Minister Kang pointed out that some Korean adoptees in the US, having failed to obtain US citizenships due to institutional shortcomings of the past and their adoptive parents' failure to complete adoption procedures, are living with insecurity that they could be deported if they ever happened to commit even a minor offense. On that note, she asked the US Congress to review this issue on humanitarian grounds.
° The US lawmakers responded that they have paid keen attention to this issue and will seek, together with other members of the US Congress mindful of this issue, ways to resolve it after their return home.
* unofficial translation