HOME
Policy Information
Public Diplomacy
Public Diplomacy News
Public Diplomacy News
Public Diplomacy News 상세보기
Foreign Minister Meets with Director-General of UNESCO
Date : 2019-09-26 00:00:00
Hit : 10203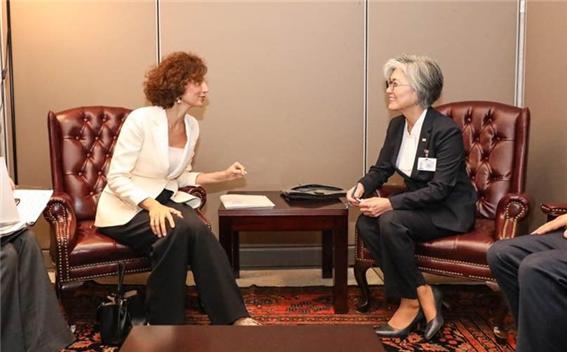 During her visit to New York for the 74th session of the United Nations (UN) General Assembly, Minister of Foreign Affairs Kang Kyung-wha held a meeting with Director-General Audrey Azoulay of the United Nations Educational, Scientific and Cultural Organization (UNESCO) on the afternoon of September 25. The two sides shared views on ways for cooperation between the Republic of Korea (ROK) and the UNESCO in the areas of peace and prosperity on the Korean Peninsula, education and international conventions of Artificial Intelligence (AI).

Director-General Azoulay particularly hailed President Moon Jae-in's suggestion of the inter-Korean joint in ion of the Demilitarized Zone to the UNESCO's World Heritage List in his key speech delivered at the UN General Assembly on September 24 as a great vision, and mentioned that UNESCO supports the vision and will continue active cooperation with the ROK.

Minister Kang, commending UNESCO's efforts for objective and fair operation of its heritage systems such as World Heritage and Documentary Heritage, asked for UNESCO's special attention and support so relevant decisions and promises on UNESCO could be faithfully implemented.

On September 25, Minister Kang went on to congratulate the launch of UNESCO's "Futures of Education Initiative for 2050." Furthermore, Minister Kang commended UNESCO for appointing Ahn Ho-young, former ROK Ambassador to the United States of America, as one of the members of its High-Level Reflection Group for Strategic Transformation, and expressed her appreciation, mentioning that he is indeed the right person to carry out the role.
Next Final Round of "2019 K-POP World Festival" to Take Place
Prev Final Round of "2019 K-POP World Festival" to Take Place