The outbreak of COVID-19 is changing the daily lives of the people to a "new normal"- increased level of uncertainty and a rapid expansion of contactless but hyper-connected society. In response, the Ministry of Foreign Affairs of the Republic of Korea (ROK) plans to solidify its status as a leading nation that upholds international order of solidarity and cooperation while prioritizing human life and public safety.
​
In this regards, the Ministry has launched "TRUST campaign" to promote ROK's responses to COVID-19 based on the principles of transparency, openness and democracy, as well as sending global messages emphasizing the necessity of solidarity and cooperation.
TRUST Campaign ver 1.0
Transparency-Robust Screening and Quarantine
-Unique but Universally-applicable-Strict Control-Treatment

TRUST Campaign ver 2.0
Transparency-Responsibility-United Action
-Science and Speed-Together in Solidarity






Republic of Korea's Fight against COVID-19

Korea's Fight against COVID-19 :

Lessons Learned and The Way Forward






Americans in South Korea talk about Coronavirus

(Video Clip)

Amid Coronavirus outbreak, we live in South Korea

(Video Clip)
How Korea Tracks Down the Coronavirus(Video Clip)
| | | |
| --- | --- | --- |
| | | |
| Guy Sorman | Michael Sandel | Jacques Attali |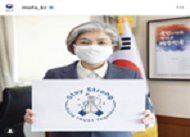 "Stay Strong Campaign" (SNS Hashtag (#Stay_strong) Campaign)
The Ministry will employ public diplomacy to consolidate ROK's image as a model for promoting democracy, leveraging its advanced information and communications technology, developed civil society, and the acclaimed COVID-19 response principles manifested by transparency, openness, and democracy. To achieve this goal, the Ministry will take innovative and targeted public diplomacy initiatives to consolidate ROK`s image as "a trusted partner of people-centered, pursuing peace and prosperity" with the following policies.
The Ministry will:
① promote interactive digital public diplomacy. As the society becomes more contactless, utilizing online platforms and digital content sources to interact with its audience is even more critical to the implementation of public diplomacy.

② strengthen and promote international solidarity and cooperation. Korea stands in solidarity with the international community in tackling the COVID-19 pandemic, an unprecedented global threat requiring a collaborative response. The Ministry will unequivocally advocate multilateralism-the driving force in maintaining global public goods and governance. In this sense, it will continue to strengthen public diplomacy to contribute towards global efforts to build a more resilient and sustainable future together.
③ enhance the tailored-approach public diplomacy to expand cooperation. The Ministry will focus its efforts in regionally-tailored public diplomacy programs to foster deeper cooperation on a range of issues, such as public health and global disease control and to realize diversification of diplomacy.
④ sponsor innovative cultural and sports diplomacy with the message of "Hope·Solidarity·Empathy." The COVID-19 has disrupted people's daily lives and suspended the opportunities of cultural and sporting events, creating significant emotional and social difficulties. To overcome this, the Ministry will drive creative and innovative ways to enjoy culture and sports to rebuild a sense of community and continue to advocate for the message of "Hope·Solidarity·Empathy".
⑤ expand the foundation of public diplomacy through partnership with the private sector and local governments. The Ministry will encourage cooperation with the private sector and public-private partnership projects, such as "grassroots public diplomacy." It will also promote economic, cultural and people to people exchanges between local governments by supporting their public diplomacy activities.

/END/