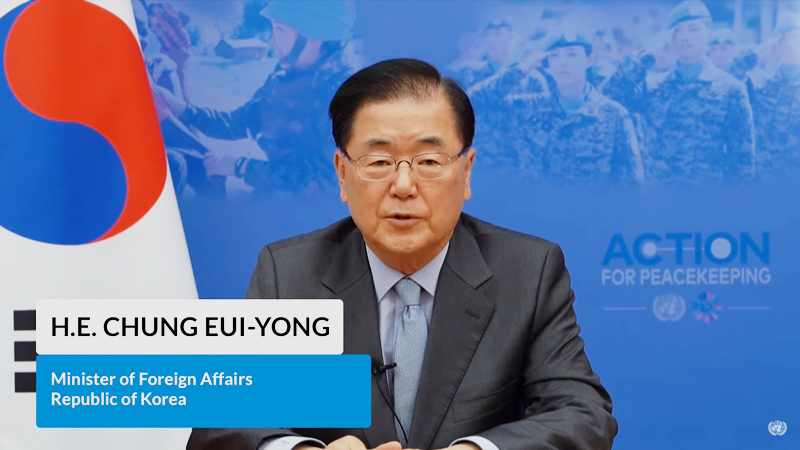 1. Minister of Foreign Affairs Chung Eui-yong delivered an opening statement at the virtual high-level event commemorating the 3rd anniversary of the Action for Peacekeeping (A4P) initiative, co-hosted by the UN Secretariat and the Netherlands, on March 29. In the opening statement, he expressed the Korean government's commitment to strengthening the United Nations Peacekeeping Operations (PKO) and introduced the UN Peacekeeping Ministerial 2021 to be held in Seoul.


o As the host of this year's Peacekeeping Ministerial, Foreign Minister Chung delivered an opening statement together with the UN Secretary-General and the Prime Minister of the Netherlands.


2. Foreign Minister Chung noted that the A4P, one of the UN Secretary-General's key initiatives, provided the blueprint for the UN peace operations to strengthen their effectiveness against challenges in the changing environment. He emphasized that peacekeeping operations should enhance their inclusiveness, contribute to sustainable peace, and be forward-looking to better respond to the emerging threats.


o In this context, Foreign Minister Chung explained that Korea will host the 4th Peacekeeping Ministerial in December this year, the first of its kind in Asia, to mobilize the political will and gather tangible commitments of the international community to further improve the PKO. He encouraged Participating States' active engagement in the Ministerial.


3. Reminding the UN's assistance in restoring peace, Foreign Minister Chung said that Korea was a direct witness to the UN's commitment to peace. He stressed that the Korean government remained committed to establishing lasting peace on the Korean Peninsula, asking for continued and unwavering support from the UN and the international community.