HOME
Press
Ministry News
Ministry News
Ministry News 상세보기
ROK-Netherlands Foreign Ministers' Meeting
Date : 2019-11-21 17:19:35
Hit : 663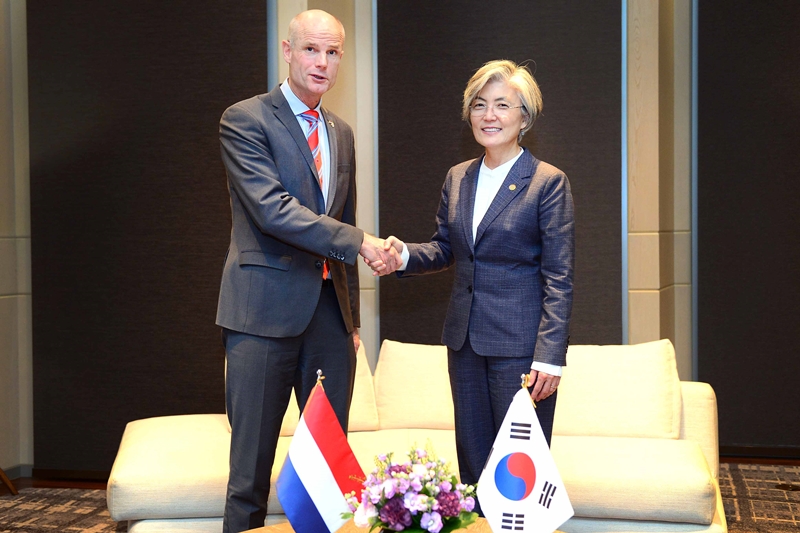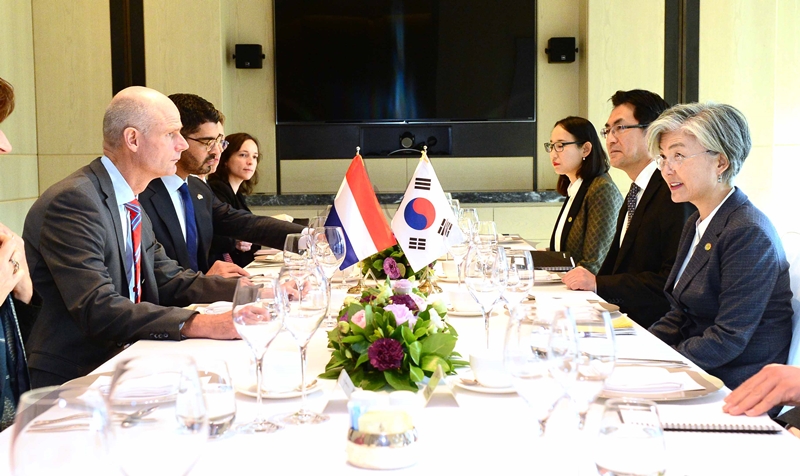 1. Minister of Foreign Affairs Kang, Kyung-wha had a meeting with Minister of Foreign Affairs of the Kingdom of the Netherlands Stef Blok on the afternoon of November 21. During the meeting, the two sides exchanged views on the Republic of Korea (ROK)-Netherlands relations, substantive cooperation, cooperation on the international stage, and the situations on the Korean Peninsula and in Europe.

2. The two sides shared the understanding that as comprehensive future-oriented partners, the ROK and the Netherlands should expand their cooperation to respond to not only bilateral but also regional and global issues.
​
3. In particular, the two Ministers took note of the increasingly robust economic exchanges between the two countries, as could be seen from the bilateral trade volume having surpassed 10 billion USD in 2017 and again in 2018. They agreed to continue to bolster bilateral economic cooperation through the ROK-Netherlands Joint Economic Committee, which had been launched in September 2019.
​
4. Minister Kang explained the recent developments on the Korean Peninsula as well as the ROK government's policy toward the Democratic People's Republic of Korea (DPRK) and expressed appreciation to the Netherlands for its active support for the ROK government's efforts toward complete denuclearization and the establishment of permanent peace on the Korean Peninsula.
​
° Minister Blok mentioned that the Netherlands is paying deep attention to peace on the Korean Peninsula, highly commended the ROK government's efforts to establish permanent peace on the Korean Peninsula, and expressed the Netherlands' will to work closely with the ROK in this regard.
​
5. The two Ministers also exchanged views on regional situations and key international issues.
​
° The two sides agreed to collaborate closely at international organizations, including the United Nations Human Rights Council and the International Criminal Court (ICC), and exchanged views on ways to step up cooperation on cybersecurity and climate change.
​
6. The meeting is seen to have served as an opportunity to discuss ways to further develop the relationship between the two countries that will mark the 60th anniversary of the establishment of diplomatic relations in 2021.

Next FM Has Telephone Conversation with U.S. Secretary of State
Prev Opening Remarks by President Moon Jae-in at Cabinet Meeting