HOME
Press
Ministry News
Ministry News
Ministry News 상세보기
Vice Minister of Foreign Affairs Choi Jong-moon Delivers Congratulatory Remarks at 8th ASEAN Connectivity Forum
Date : 2021-01-21 13:41:08
Hit : 3985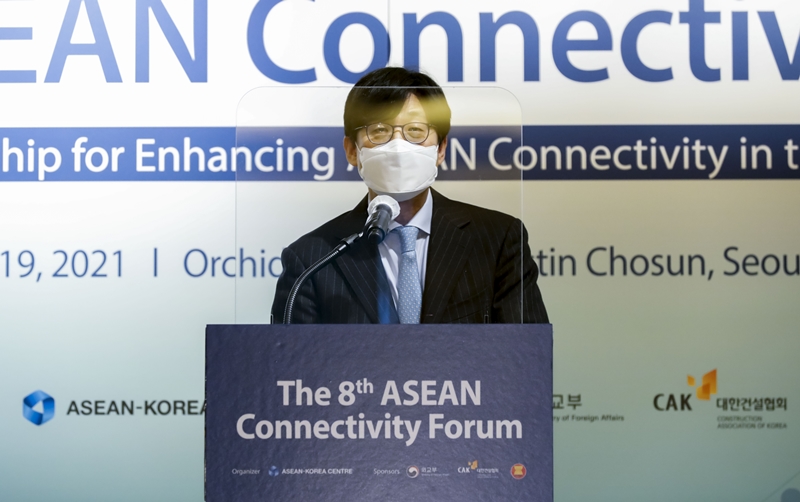 1. Vice Minister of Foreign Affairs Choi Jong-moon attended and delivered congratulatory remarks at the 8th ASEAN Connectivity Forum themed "ASEAN-Korea Partnership for enhancing ASEAN connectivity in the post COVID19 era," which was hosted by the ASEAN-Korea Centre with the support of the Ministry of Foreign Affairs on January 19. In his congratulatory remarks, the Vice Minister stressed that the Korean government has continued mutually beneficial cooperation with ASEAN in the area of connectivity toward "a people-centered community of peace and prosperity," and asked for attention and support to facilitate Korean entrepreneurs' participation in major projects of ASEAN.


° Vice Minister Choi noted with appreciation that Korea and ASEAN have worked together to maintain people-to-people and material exchanges even amid the COVID-19 situation, including assisting with medical supplies and testing kits and implementing "fast-track" entry arrangements and exceptional entry procedures.

° The Vice Minister also emphasized that the Korean government will create an environment for mutually beneficial trade and investment with ASEAN by implementing its "New Southern Policy Plus" and contribute to promoting connectivity through partnership for future industry.

2. The Forum focused on the five key strategies under the Master Plan on ASEAN Connectivity 2025, and the ASEAN side particularly voiced hope to build mutually beneficial economic relations with Korea in the fields of sustainable infrastructure and digital innovation.

° Officials of eight ASEAN countries, including those from the Department of Public Works and Highways of the Philippines, the Indonesia Investment Coordination Board, and the Malaysia Energy Commission, virtually attended the Forum, sharing information on their respective countries' projects to be carried out in the areas of transportation, energy and smart cities in the post-COVID-19 era and discussing ways for cooperation with Korean companies.

3. During his visit to the ASEAN-Korea Center for the Forum, Vice Minister Choi took the opportunity to communicate with the Centre and asked the Centre to work organically with the Korean government as it implements its New Southern Policy.

4. The Ministry of Foreign Affairs will enhance the ASEAN-Korea strategic partnership through participation and communication in such major areas as connectivity, while seeking various ways to promote ASEAN-Korea cooperation and the implementation of the New Southern Policy.

Next Outcome of Telephone Conversation between Special Representative for Korean Peninsula Peace and Security Affairs and Minister of State at Federal Foreign Office of Germany on Jan. 19
Prev MOFA Spokesperson's Statement on Japanese Foreign Minister's Foreign Policy Speech