HOME
Press
Ministry News
Ministry News
Ministry News 상세보기
Vice Minister of Foreign Affairs Choi Holds Video Conference with his Chinese Counterpart
Date : 2020-12-24 17:46:13
Hit : 2612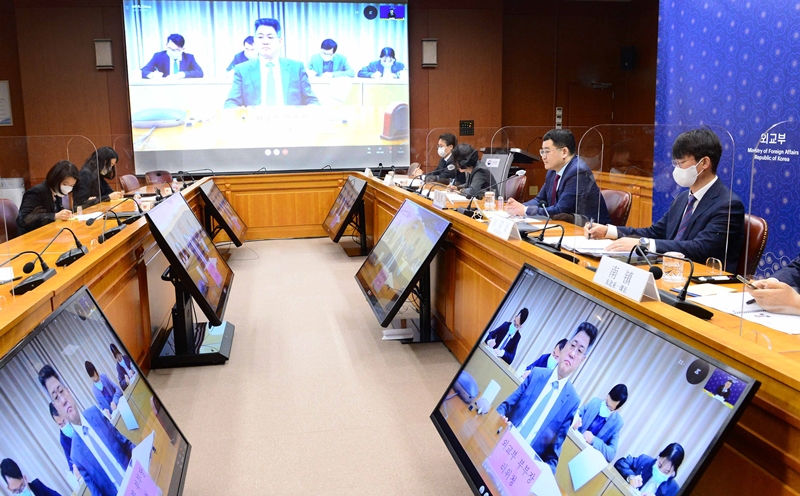 1. Vice Minister of Foreign Affairs Choi Jong Kun had a video conference with Vice Minister of Foreign Affairs of the People's Republic of China Le Yucheng on the morning of December 23 and discussed issues of mutual interest, such as the Republic of Korea (ROK)-China relations including high-level exchanges, as well as response to COVID-19.
2. The two Vice Ministers, both recognizing the significance of summit and high-level exchanges between the ROK and China in advancing bilateral relations, agreed to further promote high-level exchanges and communication even amid the COVID-19 situation through various means, including in-person and non-face-to-face diplomacy.
° The two sides agreed to faithfully implement the follow-up measures regarding the Year of the ROK-China Cultural Exchanges (2021-2022) and the launch of a committee for future-oriented development of ROK-China relations in preparation for the 30th anniversary of the establishment of diplomatic relations as agreed upon by the Ministers of Foreign Affairs of the two countries in November. The two sides also agreed to continue close communication on issues which can be mutually sensitive.
3. The two Vice Ministers shared the view on the need to continue boosting people-to-people exchanges between the two countries including by expanding the fast track procedure and increasing flights, while maintaining measures for disease prevention and control amid the prolonged COVID-19 situation, and agreed to work closely together in that regard.
° The two sides exchanged views on concrete ways to implement the "Northeast Asia Cooperation Initiative for Infectious Disease Control and Public Health" for which the Chinese side expressed support, and agreed to maintain close communication and cooperation in order to expedite the launch of the initiative.
4. Vice Minister Le invited Vice Minister Choi to visit China, and Vice Minister Choi expressed appreciation and suggested continuing consultations on matters such as the specific timing of the visit.

Next Outcome of Telephone Conversation between Korean and U.S. Chief Negotiators for North Korean Nuclear Issue on Dec. 22
Prev Vice Minister of Foreign Affairs Choi Holds Video Conference with his Indian Counterpart