HOME
Press
Ministry News
Ministry News
Ministry News 상세보기
Vice Minister of Foreign Affairs Choi Holds Video Conference with his Indian Counterpart
Date : 2020-12-24 17:43:36
Hit : 2623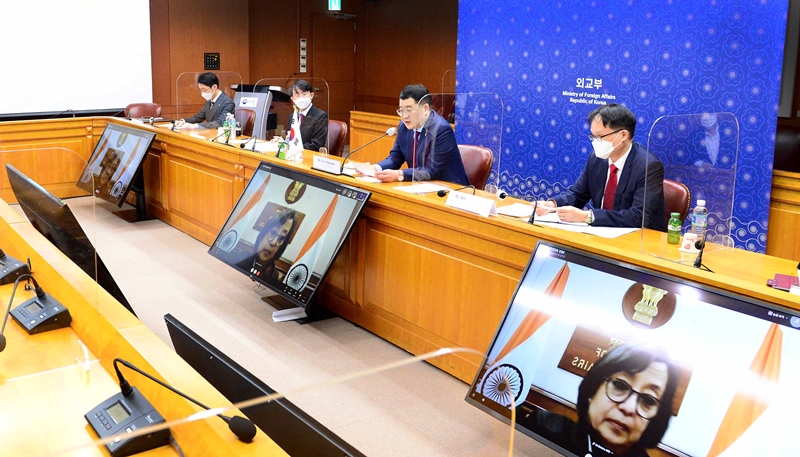 1. Vice Minister of Foreign Affairs Choi Jong Kun had a video conference with Secretary (East) of the Ministry of External Affairs of India Riva Ganguly Das from 2:30 p.m. to 3:20 p.m., December 23, and exchanged in-depth views on Korea-India relations, COVID-19 response, and strengthening cooperation in the international arena.
2. The two sides noted with appreciation that Korea and India have maintained the friendly and cooperative relations at their highest level based on special friendship and trust between the leaders of the two countries, and agreed to further reinforce substantive cooperation in Korean companies' entry into the Indian market as well as infrastructure and the defense industry, while communicating more closely despite the COVID-19 situation.
o The two sides also agreed to explore ways to resume high-level exchanges, including the foreign ministerial joint committee meeting and the foreign and defense (2+2) vice ministerial meeting, as soon as the COVID-19 situation improves.
3. In addition, the two sides exchanged views on the COVID-19 situation in the two countries and vaccine cooperation, and agreed to continue close communication and cooperation to minimize the inconvenience faced by their nationals in travelling to each other's countries and facilitate people-to-people exchanges even under strict disease control measures.
4. The two sides agreed to continue to collaborate more closely in various areas including energy as well as international organizations including the United Nations.

Next Vice Minister of Foreign Affairs Choi Holds Video Conference with his Chinese Counterpart
Prev Korea-Mongolia Foreign Ministers' Meeting Held in Virtual Format