HOME
Press
Ministry News
Ministry News
Ministry News 상세보기
Vice Minister of Foreign Affairs Choi to Hold 3rd Korea-Colombia High-level Policy Consultation
Date : 2020-12-17 10:29:22
Hit : 2875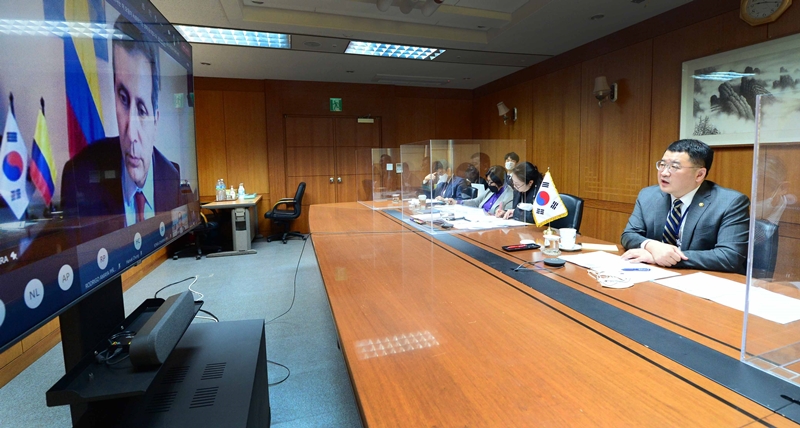 1. Vice Minister of Foreign Affairs Choi Jong Kun held the 3rd Korea-Colombia High-level Policy Consultation with Vice Minister of Foreign Affairs of Colombia Francisco Javier Echeverri Lara in a virtual format on the morning of December 16.
° At the Consultation, the first High-level Policy Consultation with a Latin American country since the outbreak of the COVID-19 pandemic, the two sides extensively discussed ways to reinforce substantive cooperation in the post-COVID-19 era in various fields, including trade and investment; health and medical care; information and communications technology (ICT), science and technology; and environment-friendly and defense infrastructure.
2. Vice Minister Choi noted with appreciation that Korea and Colombia, the only Latin American country that fought alongside Korea in the Korean War and Korea's key cooperation partner in Latin America, have continued to advance substantive cooperation based on their relations forged in blood. He went on to suggest that the two countries expand substantive cooperation in the post-COVID-19 era based on active summit diplomacy, including the telephone conversation between the Presidents on April 2, 2020, even amid the COVID-19 situation.
3. Vice Minister Echeverri conveyed Colombian President Duque's interest and commitment regarding the development of the bilateral relations, and extended special appreciation to Korea for its cooperation and solidarity in responding to the COVID-19 crisis and damage from the recent hurricane.
4. Vice Minister Choi suggested that the two countries conclude an agreement on health cooperation in order to develop bilateral cooperation on COVID-19 response to a higher level of health cooperation and that Colombia join the International Vaccine Institute (IVI). In response, Vice Minister Echeverri mentioned that Colombia will cooperate actively in that regard.
5. Vice Minister Choi commended the Korea-Colombia FTA, of which the year 2021 will mark the fourth anniversary of entry into force, for its great contribution to the expansion of bilateral trade; and asked Colombia, which will hold presidency pro tempore of the Pacific Alliance (PA) in 2021, to cooperate for Korea's accession to the PA as its Associated State.
° Vice Minister Echeverri asked for expanded exports of Colombian agricultural products to Korea through the FTA as well as increased investment of Korean companies in Colombia, a gateway to Latin America.
6. Vice Minister Choi stressed that there is great potential for cooperation between the Korean government's comprehensive plan for the Korean New Deal Initiative and Colombian President Duque's "orange economy" and "promise for Colombia" policies as engines for post-COVID-19 growth; and suggested that the two countries increase substantive cooperation in such areas as digital transformation and building environment-friendly infrastructure.
° Vice Minister Echeverri, welcoming Vice Minister Choi's suggestion, voiced hope that various state-run projects of Colombia, such as the customs modernization project and the Bogota wastewater treatment plant project, will be carried out successfully through the participation of Korean companies with outstanding experiences and technology.
7. Vice Minister Echeverri, taking note of bilateral defense cooperation including the transfer of two decommissioned Korean Patrol Combat Corvette, expressed hope that it would develop into mutually beneficial cooperation in the defense industry such as technology transfer and joint production.
° Vice Minister Choi conveyed hope that, ahead of the 70th anniversary of Colombia's participation in the Korean War in 2021, consultations on the excavation of unrecovered remains of Korean War veterans would be held in the near future and that cooperation would also increase in building defense infrastructure in Colombia.
8. Vice Minister Choi also explained the Korean government's efforts regarding the Korean Peninsula peace process, in response to which Vice Minister Echeverri expressed support and extended appreciation to the Korean government for providing humanitarian assistance to Venezuelan refugees in Colombia.
9. The High-level Policy Consultation has served as an opportunity to fully discuss and step up communication on ways to expand substantive cooperation in the post-COVID-19 era with Colombia, an emerging promising market in Latin America, in line with the commitment to increasing cooperation, which was stated during the telephone conversation between the two countries' Presidents in early April.

Next 2020 Northeast Asia Peace and Cooperation Intergovernmental Meeting Takes Place
Prev Vice Minister of Foreign Affairs Choi Holds 6th Korea-EU High-level Political Dialogue