HOME
Press
Ministry News
Ministry News
Ministry News 상세보기
The 201st ROK-US Joint Committee of the Status of Forces Agreement
Date : 2020-12-15 14:31:16
Hit : 3282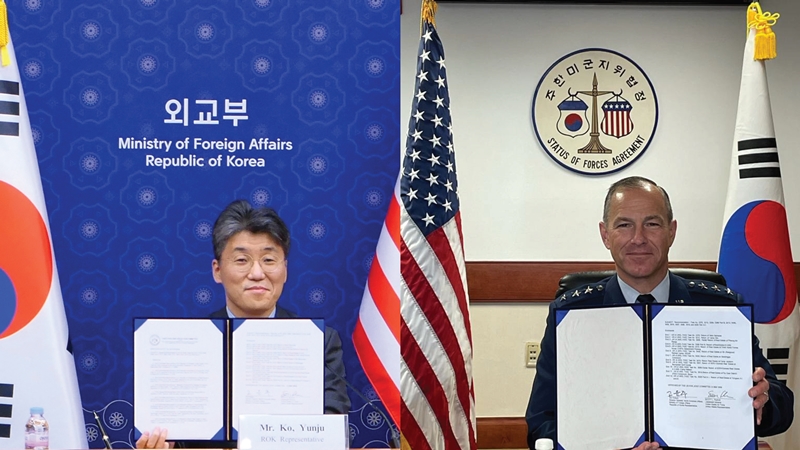 Representatives of the Republic of Korea and the United States of America held the 201st Status of Forces Agreement (SOFA) Joint Committee meeting virtually on 11 December 2020. The ROK delegation was led by Director General Ko, Yunju of the North American Affairs Bureau, ROK Ministry of Foreign Affairs. The U.S. delegation was led by Lieutenant General Scott L. Pleus, Deputy Commander, United States Forces Korea.
​
In this year's meeting, the two sides vowed to further strengthen and deepen their partnership towards the common goal of maintaining a stable stationing environment for U.S. armed forces and enhancing the public safety and welfare of the Korean people.
​
The Joint Committee took note of the extensive consultations regarding the conditions of returning camps and reaching a mutually acceptable solution for remediating contamination on those camps. The parties agree that further delays aggravate the economic and social challenges of the local communities surrounding the camps and that the returns process should be expedited.
​
Both sides decided that the following facilities and areas will be returned: Pilsung Air Range (Partial), Taebaek; Camp Walker (Partial), Daegu; Commander Naval Forces Korea (CNFK) Detachment, Pohang; Camp Mobile (Partial), Dongducheon; Camp Jackson, Uijeongbu; Sungnam Golf Course, Hanam; Far East District (FED) Compound, Seoul; Seobinggo Compound, Seoul; Niblo Barracks, Seoul; 8th Army (Religious) Retreat Center (RRC), Seoul; Camp Kim, Seoul; and Yongsan Garrison (Parcels A-1 and A-2), Seoul, while the two sides continue discussions on 1) remediation responsibility, 2) ways to enhance the environmental management of the bases currently in use by USFK, and 3) possible changes, proposed by the ROK, to SOFA related documents.
​
Both sides also decided that the Environmental Subcommittee continue discussions in order to 1) develop contamination management criteria; 2) establish procedures for joint contamination surveys; 3) review and possibly improve the reporting procedures and joint investigation procedures.
​
The two Representatives commended the close partnership and efforts of the two chairpersons of the Facilities and Areas Subcommittee that successfully led to the most recent returns.
​
Moreover, the two sides vowed to continue bilateral cooperation and discussions concerning the safety of both US and Korean citizens while balancing the need for USFK and ROK forces to maintain a high level of readiness required to successfully defend the Republic of Korea at a moment's notice.
​
The Joint Committee assessed that the cooperation between USFK and the ROK concerning the COVID-19 pandemic has been exemplary. The high level of coordination and communications has further enhanced the trust between the two and has also contributed in broadening the scope of the Strategic Alliance.
​
The Joint Committee pledged to continue close partnership and transparency in addressing challenging SOFA-related issues with mutual trust, respect and diligent cooperation, so as to further strengthen the ROK-US Alliance. The next Joint Committee meeting is expected to occur at a mutually convenient time in 2021.