HOME
Press
Ministry News
Ministry News
Ministry News 상세보기
Vice Minister of Foreign Affairs Choi Meets with Ambassador of Colombia to ROK
Date : 2020-10-23 09:25:31
Hit : 1816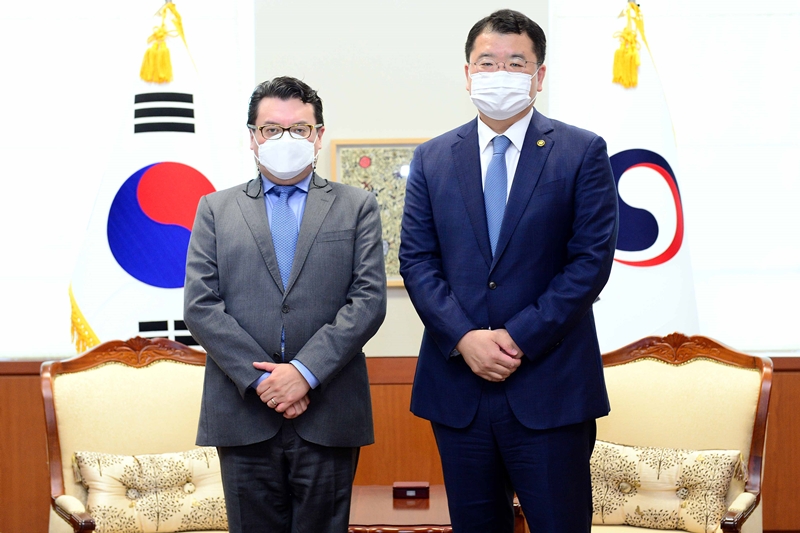 1. Vice Minister of Foreign Affairs Choi Jong Kun met with Ambassador of the Republic of Colombia to the Republic of Korea Juan Carlos Caiza Rosero on the afternoon of October 19, and had an extensive exchange of views on ways to develop the ROK-Colombia relations, cooperation in COVID-19 response, and cooperation on the international stage.
2. With this year commemorating the 70th anniversary of the Korean War, Vice Minister Choi expressed satisfaction over COVID-19 cooperation with Colombia, which is the only Latin American country that participated in the Korean War and the ROK's key diplomatic partner within Latin American region. Vice Minister Choi also hoped to further expand bilateral exchanges and substantive cooperation, including summit diplomacy, in the post-COVID-19 era.
3. Ambassador Caiza conveyed Colombian President Duque's strong willingness and commitment to advance the ROK-Colombia relations, as well as the Colombian President's sincere gratitude for the ROK's support to help the country tackle COVID-19.
o Ambassador Caiza expressed hope that bilateral trade will further increase through the ROK-Colombia FTA (* entered into force in July 2016), along with the expansion of development cooperation and Korean companies' investment in Colombia.
4. Vice Minister Choi offered to continue working closely together to enhance bilateral relations. Vice Minister Choi particularly mentioned that if Korean companies participate in Colombia's national defense infrastructure and defense industry cooperation projects, it would be a significant achievement in ROK-Colombia cooperation, and asked for active cooperation and support.
5. In addition, Vice Minister Choi highlighted that the ROK Prime Minister had a phone conversation with the Colombian President this morning to request the Colombian government's support for Trade Minister Yoo Myung-hee, who has advanced to the final round of the selection process for the World Trade Organization (WTO) Director-General. Vice Minister Choi once again asked for the Colombian government's support.
o Ambassador Caiza said that the Colombian government highly recognizes Minister Yoo's capacities and qualifications, and expressed expectation for good results.
6. Today's meeting was Vice Minister Choi's first individual meeting with a Latin American ambassador to the ROK, following the meeting with the diplomatic corps of the Group of Latin America and the Caribbean (GRULAC) in the ROK. It served as a meaningful opportunity to reaffirm the two countries' willingness to expand the post COVID-19 cooperation, and discuss ways to pursue it.

Next Vice Minister of Foreign Affairs Lee Attends Virtual Ministerial Roundtable on Humanitarian Challenges in Central Sahel (Oct. 20)
Prev Outcome of Deputy Minister for Political Affairs Kim Gunn's Visit to Mexico