HOME
Press
Ministry News
Ministry News
Ministry News 상세보기
Outcome of Deputy Minister for Political Affairs Kim Gunn's Visit to Mexico
Date : 2020-10-23 09:20:27
Hit : 1816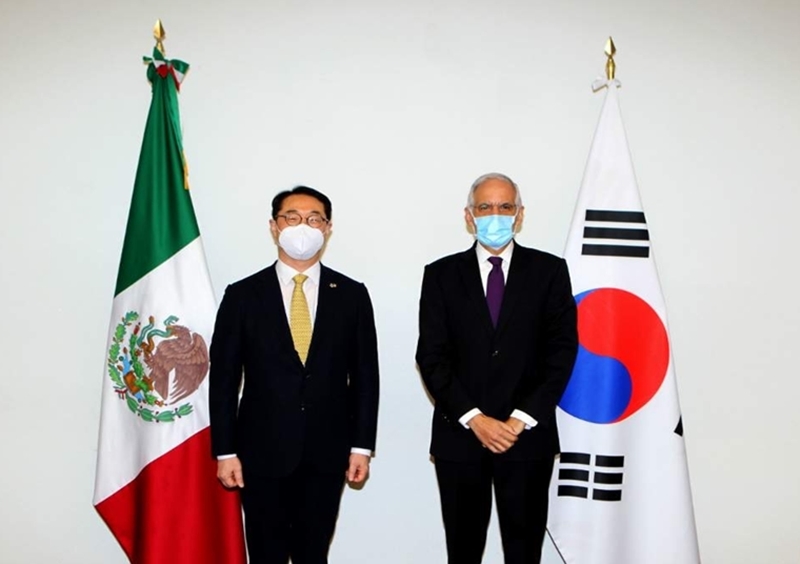 1. Deputy Minister for Political Affairs of the Ministry of Foreign Affairs Kim Gunn visited Mexico during October 19-20, and met with Deputy Secretary of Foreign Affairs Julián Ventura, Deputy Secretary for Foreign Trade of the Ministry of Economy María de la Mora (video conference), Deputy Secretary for North America of the Ministry of Foreign Affairs Jesús Seade, and head of the Mexico-Republic of Korea parliamentary friendship group David Bautista Rivera; and had meetings with representatives from Korean companies in Mexico and Mexico's Business Coordinating Council (Consejo Coordinador Empresarial).
o Deputy Minister Kim's visit to Mexico, which was the first visit to Latin America by a high-level ROK government official since the outbreak of COVID-19, was focused on re-starting face-to-face diplomatic activities with an aim to strengthen relations with Mexico and Latin American region for post-COVID-19 economic revitalization.
2. During his visit to Mexico, Deputy Minister Kim exchanged views on a wide range of issues, including facilitation of bilateral cooperation in COVID-19 response as well as trade and investment cooperation, and asked for Mexico's support for the Korean candidate who has advanced to the final round of the World Trade Organization(WTO) Director-General selection process.
o In particular, Deputy Minister Kim shared the difficulties faced by Korean companies in Mexico with officials from various sectors so that Korean companies may adapt well to the changed business environment in Mexico after Mexico's entry into force of the United States-Mexico-Canada Agreement (USMCA). In addition, Deputy Minister Kim and Deputy Secretary for Foreign Trade of the Ministry of Economy María de la Mora agreed to designate a "help desk for Korean companies" within Mexico's Ministry of Economy which will serve as a communication channel for Korean companies' inquiries.
o Furthermore, amid growing interest in the Mexican market due to the current Global Value Chains (GVC) restructuring trend, Deputy Minister Kim stressed the need to conclude the ROK-Mexico FTA and revise the Bilateral Investment Treaty (BIT), and asked for Mexico's understanding and participation with regards to strengthening bilateral economic cooperation institutions.
o Meanwhile, Deputy Minister Kim asked the Mexican side to support the ROK's accession to the Pacific Alliance (PA) as an associate member and also asked for joining the International Vaccine Institute (IVI).
3. The Mexican side highlighted that Deputy Minister Kim was the first high-level foreign official to visit Mexico since the COVID-19 outbreak, and proposed that the two countries advance bilateral relations in a more mature and future-oriented manner by expanding substantive cooperation in various fields, including trade and investment, energy and infrastructure, health and medical care, etc.
o The Mexican side also commended the ROK, which is serving as the chair of MIKTA this year following Mexico's chairmanship last year, for actively carrying out activities including President Moon Jae-in's joint remarks on behalf of MIKTA at the High-Level Meeting to Commemorate the 75th Anniversary of the United Nations (Sep. 21), and reaffirmed that Mexico will actively cooperate to facilitate cooperation among the MIKTA countries.
o In addition, the Mexican side shared the view that the Korean candidate who has advanced to the final round of WTO Director-General selection process is an outstanding candidate with extensive experience in trade with countries ranging from developing to developed countries.
4. Furthermore, the two sides agreed to resume high-level exchanges including the ROK-Mexico high-level policy consultation, and continue to actively prepare various activities to ensure that the 60th anniversary of the establishment of diplomatic relations between the ROK and Mexico in 2022 becomes an opportunity to take bilateral relations one step further.
5. Deputy Minister Kim's visit to Mexico has served as a meaningful opportunity to convey the ROK's strong commitment to strengthen relations with Mexico through the resumption of post-COVID-19 face-to-face diplomacy, and to take the first step in pursuing post-COVID-19 economic cooperation, including agreeing to introduce institutional mechanism for supporting Korean companies' activities such as the designation of a "help desk for Korean companies."

Next Vice Minister of Foreign Affairs Choi Meets with Ambassador of Colombia to ROK
Prev Minister of Foreign Affairs Has Telephone Conversation with her Austrian Counterpart (Oct. 20)