HOME
Press
Ministry News
Ministry News
Ministry News 상세보기
Minister of Foreign Affairs Has Virtual Meeting with her Finnish Counterpart Haavisto
Date : 2020-10-21 11:24:31
Hit : 2179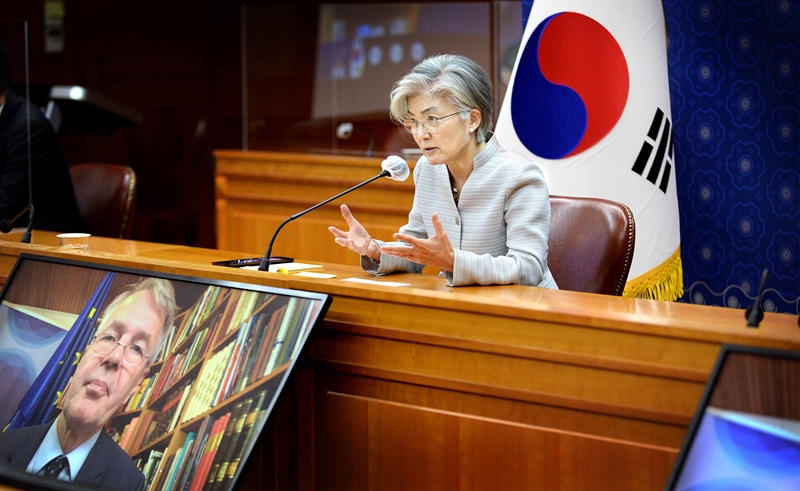 1. Minister of Foreign Affairs Kang, Kyung-wha had a virtual meeting with Minister for Foreign Affairs of the Republic of Finland Pekka Haavisto on the evening of October 19, and discussed COVID-19 response and ways to cooperate on the international stage, including the selection of the World Trade Organization (WTO) Director-General.
2. The two Ministers noted with appreciation that the two countries have been closely working together to overcome the COVID-19 situation and particularly strengthening global health cooperation through the World Health Organization (WHO) and the International Vaccine Institute (IVI).
3. Minister Kang asked for Finland's support for Trade Minister Yoo Myung-hee, who has advanced to the final round of the selection process for the WTO Director-General, and Minister Haavisto praised Minister Yoo's capacities.
4. In addition, the two Ministers took note that the two countries are actively contributing to stabilization and reconstruction efforts in Afghanistan, and agreed to continue working together through international meetings including the "2020 Afghanistan Conference (Nov. 23-24)" to be co-hosted by Finland, the United Nations Assistance Mission in Afghanistan (UNAMA), and the Afghan government.
5. The two Ministers noted that the two countries have been continuing communication amid the COVID-19 situation, including the face-to-face meeting at the Munich Security Conference in February, the phone conversation on COVID-19 response in April, and today's virtual meeting, and agreed to continue to work closely together.

Next Minister of Foreign Affairs Holds Virtual Meeting with her Slovenian Counterpart (Oct. 19)
Prev Vice Minister of Foreign Affairs Choi Meets with Ambassador of Norway to ROK Frode Solberg