HOME
Press
Ministry News
Ministry News
Ministry News 상세보기
Ministry of Foreign Affairs Discusses with OSCE Multilateral Responses to Transnational Challenges
Date : 2020-10-15 11:20:12
Hit : 631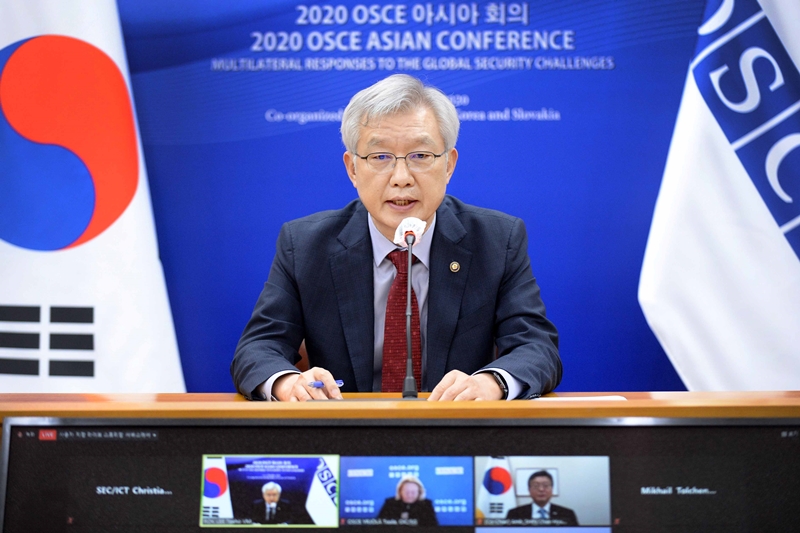 1. The Ministry of Foreign Affairs, together with the Organization for Security and Co-operation in Europe (OSCE), a key organization for regional security cooperation, held the 2020 OSCE Asian Conference on "Multilateral Responses to the Global Security Challenges" on October 12-13 in a virtual format.
2. In his keynote speech at the opening ceremony, Vice Minister of Foreign Affairs Lee Taeho stressed that transnational and transregional cooperation and governance is essential in responding to challenges such as infectious diseases, environmental risks and cyber threats, and introduced the policies of the Republic of Korea designed to strengthen comprehensive security, including the Green New Deal policy and the exemplary prevention and control of COVID-19.
3. The Conference brought together delegates of the OSCE's Participating States and Asian Partners for Co-operation as well as major international organizations, who discussed regional confidence-building measures, the mitigation of environmental risks and challenges, and health security on the basis of the OSCE's concept of comprehensive security which embraces all of the political, economic and human dimensions of security, and explored ways to step up relevant cooperation between Europe and Asia.
° In session I on the topic of "Regional CBMs and Exchanges of Best Practices between Europe and Asia," the panelists and the other participants exchanged views on the confidence-building efforts in Northeast Asia, the counter-terrorism efforts and peace negotiation process in the Islamic Republic of Afghanistan, the OSCE Code of Conduct on Politico-Military Aspects of Security, and the discussions on confidence-building and norms in cyberspace.
° In session II on "Mitigating Trans-border Environmental Risks and Challenges," the participants took note of the heightened environmental and disaster risks amid the COVID-19 situation and underscored the need to take an active part in international cooperation led by the United Nations in order to respond to environmental risks jointly faced by humanity, such as water shortages and climate change.
° Session III covered "Nexus between Security and Access to Information in the Context of COVID-19 Pandemic," during which the participants reaffirmed the necessity for solidarity and collaboration of the international community in responding to infectious diseases, and discussed transparent information-sharing and infodemic prevention. In the session, the Korea Centers for Disease Control and Prevention introduced the ROK's measures for COVID-19 prevention and control as well as its efforts to share information in a transparent and open manner.
4. The Ministry of Foreign Affairs, by building on the outcome of the discussion at the OSCE Asian Conference held in a virtual format amid the COVID-19 situation, will continue diplomatic efforts to step up multilateral security cooperation with the OSCE's Participating States and Asian Partners for Co-operation.

Next Vice Minister of Foreign Affairs Choi Meets with UAE and Saudi Ambassadors to ROK
Prev 5th ROK-U.S. Senior Economic Dialogue (SED) to Take Place