HOME
Press
Ministry News
Ministry News
Ministry News 상세보기
Vice Minister of Foreign Affairs Choi Meets with UK Ambassador to ROK Simon Smith
Date : 2020-10-14 11:17:37
Hit : 546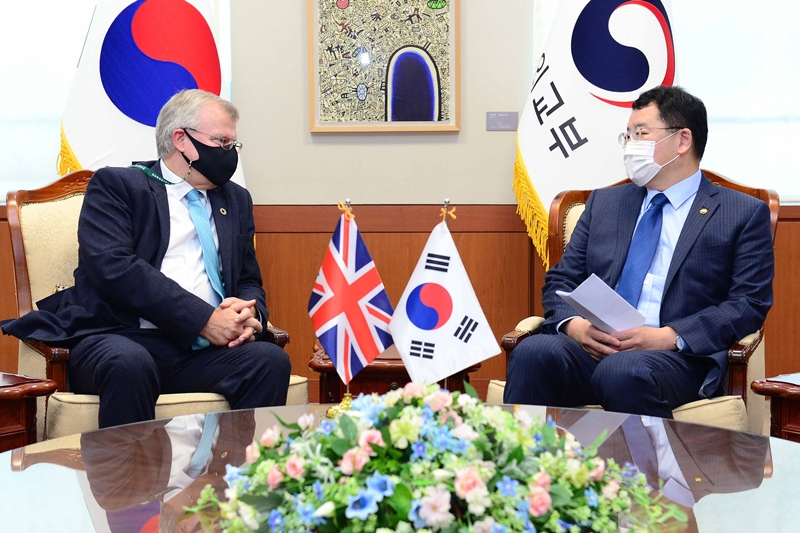 1. Vice Minister of Foreign Affairs Choi Jong Kun met with Ambassador of the United Kingdom of Great Britain and Northern Ireland to the Republic of Korea Simon Smith on the afternoon of October 8, and exchanged views on issues of mutual interest, including ways to advance the ROK-UK relations; cooperation on the global stage including the election of the World Trade Organization (WTO) Director-General; and regional issues.
2. Vice Minister Choi noted that the recent visit by the Rt Hon. Dominic Raab, Secretary of State for Foreign, Commonwealth and Development Affairs, amid the COVID-19 situation, following former UK Prime Minister Theresa May's visit, and the holding of the 5th ROK-UK Foreign Ministerial Strategic Dialogue demonstrate the significance that the governments of the two countries place on strengthening bilateral relations. Vice Minister Choi went on to suggest continuing to work together for various cooperative measures discussed at the Strategic Dialogue to achieve tangible results.
o Ambassador Smith said that the UK considers enhancing friendly and cooperative relations with the ROK very important and looks forward to expanding cooperation in COVID-19 response and the health sector, and hoped that the two countries would continue to increase substantive cooperation, including through regular dialogue channels such as the ROK-UK Senior Economic Dialogue (SED). He also expressed the UK's willingness to cooperate in facilitating exchanges between the people of the two countries, including business people, even amid the COVID-19 situation.
3. The two sides noted with appreciation that bilateral cooperation is being successfully carried out on the global stage, including the election process for the WTO Director-General, and exchanged views on regional issues, including the Korean Peninsula.
o Vice Minister Choi particularly asked for the UK's support for Trade Minister Yoo Myung-hee who has advanced to the final round of the election process for the next WTO Director-General. Ambassador Smith congratulated Trade Minister Yoo on advancing to the final round and commended her outstanding capacities and qualifications.
4. The two sides agreed that the two countries, sharing universal values, would continue to closely communicate and cooperate with each other on regional affairs including the Korean Peninsula, as well as various bilateral and multilateral issues.

Next SICA 30th Anniversary Seminar on Korea-Central America New Cooperation Vision to Take Place
Prev Vice Minister of Foreign Affairs Choi Meets with Russian Ambassador to ROK