HOME
Press
Ministry News
Ministry News
Ministry News 상세보기
Minister of Foreign Affairs Participates in 3rd Teleconference on COVID-19 Response among Foreign Ministers
Date : 2020-08-11 09:22:16
Hit : 1898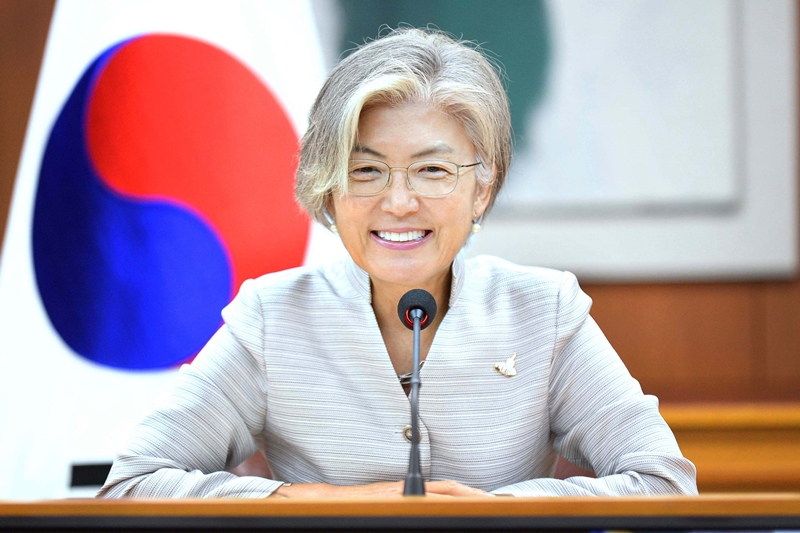 1. Minister of Foreign Affairs Kang, Kyung-wha had a multilateral teleconference with her counterparts of major countries for about one hour from 20:00, August 7, Korea Standard Time, and discussed ways for international cooperation on COVID-19 response.
° The teleconference, which marked the third meeting following the one on June 3, brought together the foreign ministers of the Republic of Korea, the United States of America which proposed the teleconference, the Commonwealth of Australia, the Federative Republic of Brazil, the Republic of India, and the State of Israel.
​

2. The foreign ministers shared the COVID-19 responses in their respective countries and discussed ways for facilitating international travel, collaborating on response to the pandemic, sharing information swiftly and transparently, and promoting international cooperation for economic recovery.
​

3. Minister Kang explained that the ROK has been effectively controlling the spread of COVID-19 through disease prevention and control efforts at home and abroad. She added that the need for collaboration among countries is further increasing, as the ROK is experiencing difficulties triggered by the record-breakingly long rainy season, including the increased possibility of cluster infections and negative impact on economic recovery efforts.
​

° The Minister added that the ROK government, having recently announced the Korean New Deal Initiative with the goal of creating numerous jobs in digital and green areas through the investment of 160 trillion Korean won (approximately 134.8 billion US dollars) by 2025, is making efforts to take an economic leap after the COVID-19 pandemic.
° She also explained that the ROK has been continuing international cooperation to facilitate cross-border travel, including through discussions with some countries on "fast track" procedures aimed at ensuring travel of essential workforce, such as business people. She went on to note with appreciation that numerous countries, including the ROK, have lately been endeavoring to resume face-to-face diplomacy in a way that ensures health and safety of those concerned.

° The Minister explained that the ROK, the host of the International Vaccine Institute (IVI) headquarter, has been contributing to the development and distribution of safe, effective and affordable vaccines in accordance with the principle of promoting equal access. She suggested continuing collaboration in securing and equitably distributing COVID-19 vaccines, including through the COVID-19 Vaccine Global Access (COVAX) Facility.
° In addition, the Minister mentioned that the ROK government has been providing humanitarian assistance through various means to support developing countries' COVID-19 responses. She further mentioned that the ROK government plans to implement mid-to-long-term development cooperation in a way that can help recipient countries strengthen their response capacity, including by sharing the ROK's "K-Quarantine" model.
4. The foreign ministers shared the view that close communication and collaboration among countries is important for overcoming the international crisis caused by the prolonged COVID-19 pandemic, appreciated the usefulness of the 3rd teleconference, and agreed to continue candid and productive discussions.

Prev ROK Government to Provide Emergency Humanitarian Assistance worth US$1 Million to Lebanon following Devastating Explosion in Beirut