HOME
Press
Ministry News
Ministry News
Ministry News 상세보기
ROK-New Zealand Deputy Foreign Ministerial Video Conference Takes Place
Date : 2020-07-06 15:18:00
Hit : 2223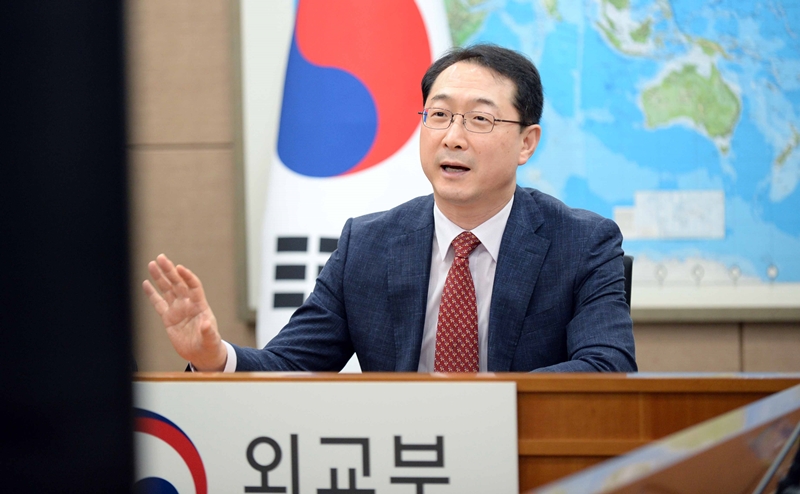 1. Deputy Minister for Political Affairs of the Ministry of Foreign Affairs Kim Gunn had a video conference with Deputy Secretary for the Americas and Asia Group of the Ministry of Foreign Affairs and Trade of New Zealand Mark Sinclair on the morning of July 2.

o The video conference was held to give the deputy foreign ministers of the two countries an opportunity to exchange greetings and discuss ways to cooperate in advancing the Republic of Korea-New Zealand relations.

2. The two sides shared the COVID-19 situations and response efforts in their countries, and discussed prospects and ways for the two countries to work together amid the COVID-19 pandemic.


o Deputy Minister Kim mentioned the need to allow business people visiting New Zealand for business purposes to enter the country. Deputy Secretary Sinclair explained that his government is considering measures to open borders in a phased manner to countries effectively controlling COVID-19, including the ROK, beginning with neighboring Australia.

3. The two sides shared the view that the two countries, traditional allies and cooperative partners, need to further step up bilateral cooperation in a range of areas.

o Deputy Secretary Sinclair highly commended a Korean company's construction and delivery of the largest logistics support vessel in the history of the New Zealand Navy. Deputy Minister Kim expressed hope that this would help further increase bilateral cooperation in national defense and the defense industry.

o Deputy Minister Kim extended appreciation for Prime Minister of New Zealand Jacinda Ardern's participation in the commemorative event held on July 1 in New Zealand to mark the 70th anniversary of the Korean War this year.


4. In addition, the two sides exchanged views on regional situations, and agreed on the need for the two countries, representative like-minded countries on the regional and global stage, to continue to closely cooperate on various regional and global issues.

o Deputy Secretary Sinclair, mentioning that New Zealand will host the APEC summit in a virtual format next year, expressed hope that New Zealand and the ROK would continue to strengthen strategic cooperation not only in preparations for the success of the summit, but also in various other areas, including the Comprehensive and Progressive Agreement for Trans-Pacific Partnership (CPTPP) and climate change.

o Deputy Minister Kim, saying that the ROK will host the P4G Summit next year, explained that the ROK is making preparations for the Summit to serve as a stepping stone to a successful 26th session of the Conference of the Parties (COP-26) to the UNFCCC, as well as an opportunity to affirm the importance of green leadership in overcoming the economic crisis post COVID-19.
5. Lastly, the two sides agreed on the need to continue close communication and consultations between the diplomatic authorities of the two countries in order to advance bilateral relations even amid the COVID-19 situation, and agreed to hold in-depth discussions on a broad range of issues through follow-up consultations.

Next ROK-U.S. High-level Consultations to Take Place during Visit to ROK by U.S. Deputy Secretary of State and Special Representative for North Korea
Prev Friends of Lower Mekong Senior Officials' Meeting and ARF Inter-sessional Support Group Meeting Take Place in Video Format