HOME
Press
Ministry News
Ministry News
Ministry News 상세보기
Meeting between Vice Minister of Foreign Affairs Cho and U.S. Ambassador to ROK
Date : 2020-03-04 17:02:31
Hit : 4368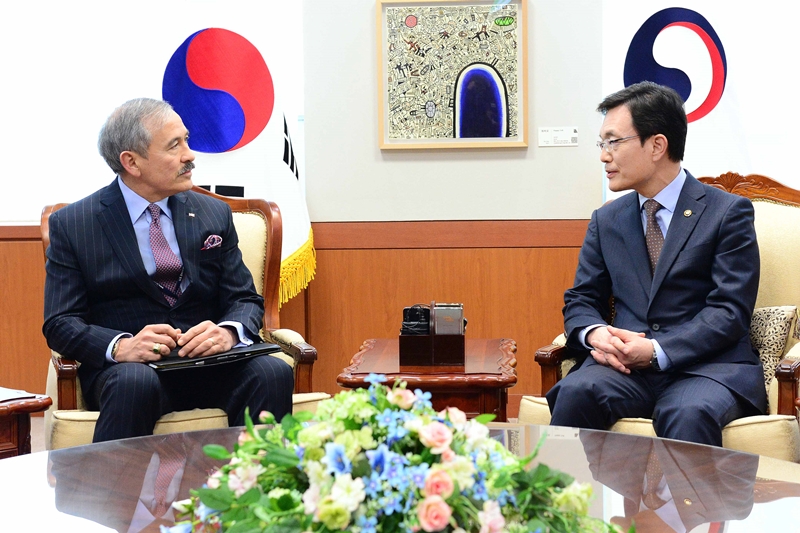 1. Vice Minister of Foreign Affairs Cho Sei-young met with Ambassador of the United States (U.S.) to the Republic of Korea (ROK) Harry Harris on the afternoon of March 4. The Vice Minister explained the recent developments in the outbreak of the novel coronavirus (COVID-19) and the ROK government's response measures, and asked for the U.S. government's continued confidence in the ROK's disease control measures and capacity.


° Vice Minister Cho also suggested that the ROK and the U.S. maintain their cooperation in order to contain the spread of COVID-19 and to prevent people-to-people exchanges between the two countries from being seriously affected by the situation.

2. In response, Ambassador Harris mentioned that the U.S. will remain confident in the ROK government's robust and comprehensive response efforts to curb the spread of COVID-19.

Next FM Meets with UK Secretary of State for Health and Social Care
Prev Deputy Minister for Political Affairs Summons Ambassador of Singapore to ROK Eric Teo