HOME
Press
Ministry News
Ministry News
Ministry News 상세보기
FM Meets with UK Secretary of State for Health and Social Care
Date : 2020-03-05 16:30:47
Hit : 6334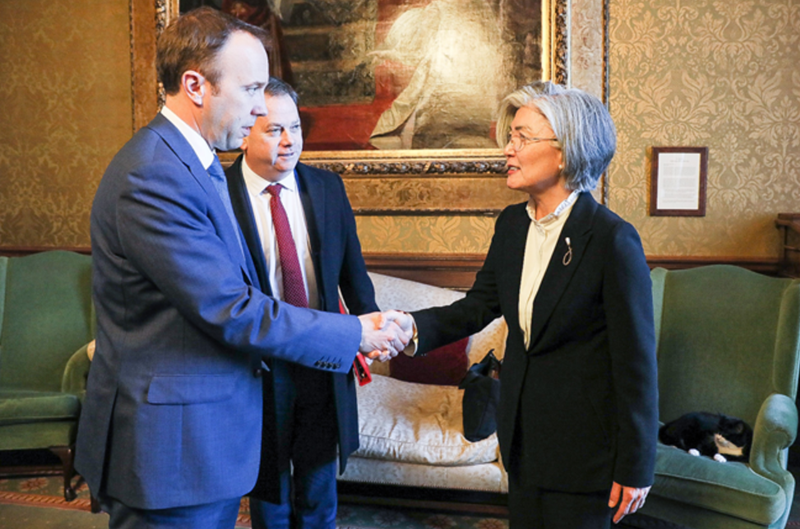 1. Minister of Foreign Affairs Kang, Kyung-wha visited the United Kingdom on February 26 and met with UK Secretary of State for Health and Social Care Matt Hancock. In the meeting, Minister Kang shared how the government of the Republic of Korea is responding to the outbreak of a novel coronavirus (COVID-19), and discussed ways for the two countries to work together to combat COVID-19 spreading across the world.


2. Minister Kang said that in response to the recent spike in COVID-19 cases in the ROK, the ROK government has raised its infectious disease alert to the highest level of "serious" and significantly strengthened its government-wide and transparent response system, mobilizing all available resources. Minister Kang offered to continue to share the situation and have a close consultation between the two countries in responding to COVID-19.


o Secretary Hancock noted with appreciation the ROK government's all-out efforts to respond to COVID-19, and said with confidence that the ROK would overcome the situation well, as the country has an outstanding response system. He also expressed concern over the spread of COVID-19 across Europe, including the UK, and hoped to continue to cooperate with the ROK government which has an advanced medical and quarantine system.


3. Meanwhile, Minister Kang asked Minister of State at the Foreign and Commonwealth Office Nigel Adams, who was present at the meeting, for high-level delegates from the UK and the country's active roles to ensure the success of the P4G Summit (June 29-30, Seoul), which will serve as a stepping stone to the 26th session of the Conference of the Parties (COP26) to the UN Framework Convention on Climate Change (UNFCCC) to be held in Glasgow, the UK, in November this year.

o Minister of State Adams appreciated the ROK's efforts to respond to climate change, expressed appreciation for the invitation to the P4G Summit, and said that his country would consider it in a favorable light. He went on to say that since Brexit, cooperation with the ROK has become more important, and expressed hope that economic and trade cooperation between the two countries would continue to grow based on the ROK-UK Free Trade Agreement.

Next Telephone Conversation between Foreign Ministers of ROK and Thailand (Mar. 5)
Prev Meeting between Vice Minister of Foreign Affairs Cho and U.S. Ambassador to ROK