HOME
Press
Ministry News
Ministry News
Ministry News 상세보기
ROK-U.S.-Japan Foreign Ministerial Meeting
Date : 2020-02-17 14:11:08
Hit : 2323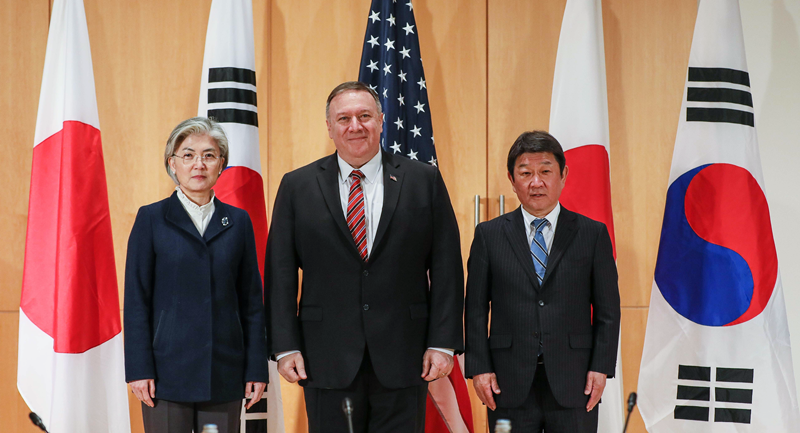 1. On the occasion of the 56th Munich Security Conference, Minister of Foreign Affairs Kang, Kyung-wha had a Republic of Korea-U.S.-Japan Foreign Ministers' meeting with Secretary of State of the United States (U.S.) Mike Pompeo and Minister for Foreign Affairs of Japan Toshimitsu Motegi on the morning of February 15.


° The trilateral foreign ministerial meeting, which came about one month after the one held in San Francisco on January 14, marked the seventh of its kind since Minister Kang's inauguration.


2. During the meeting, the three sides discussed ways for trilateral collaboration on denuclearization and other North Korean issues as well as regional and global issues.


° The three sides shared assessments of the current situation in North Korea and discussed in depth ways to respond to the situation as well as ways for the ROK, the U.S. and Japan to work together in the future.
° The three sides also exchanged views on regional and global issues, including the recent spread of the novel coronavirus (COVID-19) and the situation in the Middle East, and agreed to continue seeking areas and ways in which the three countries can work together.

Next FM Delivers Statement at High-level Segment of 43rd Session of UN Human Rights Council