HOME
Press
Ministry News
Ministry News
Ministry News 상세보기
ROK-Japan Foreign Ministers' Meeting Held on Feb. 15
Date : 2020-02-17 14:06:39
Hit : 1747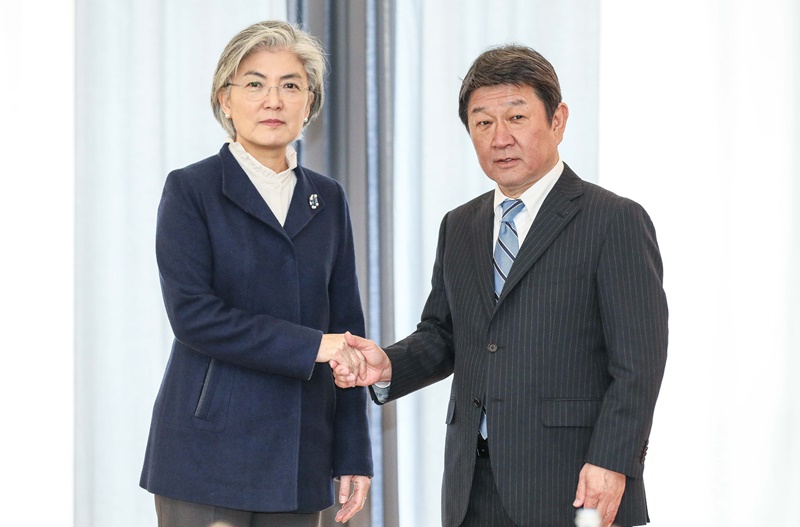 1. On the occasion of the 56th Munich Security Conference, Minister of Foreign Affairs Kang, Kyung-wha had a meeting with Minister for Foreign Affairs of Japan Toshimitsu Motegi on the morning of February 15, local time, and exchanged views on matters of mutual interest.

2. During the meeting, Minister Kang reiterated the position of the government of the Republic of Korea that Japan's export-restrictive measures should be promptly withdrawn and underscored the need for Japan to take more tangible and sincere measures as soon as possible.

3. With regard to the forced labor issue, Minister Kang emphasized the ROK government's position, while Minister Motegi mentioned the position of the Japanese government.

4. With respect to responding to the novel coronavirus (COVID-19), the two sides agreed to work closely together for smooth information exchanges, among others.

5. The two Ministers also agreed to continue cooperation on nuclear and other North Korean issues.

6. The two Ministers shared the understanding that in order to resolve pending issues between the ROK and Japan, their Ministries of Foreign Affairs should continue dialogue, communication and consultations.

Prev ROK-China Foreign Ministers' Meeting Held on Feb. 15 on Occasion of Munich Security Conference