HOME
Press
Ministry News
Ministry News
Ministry News 상세보기
ROK-China Foreign Ministers' Meeting Held on Feb. 15 on Occasion of Munich Security Conference
Date : 2020-02-17 14:03:17
Hit : 1322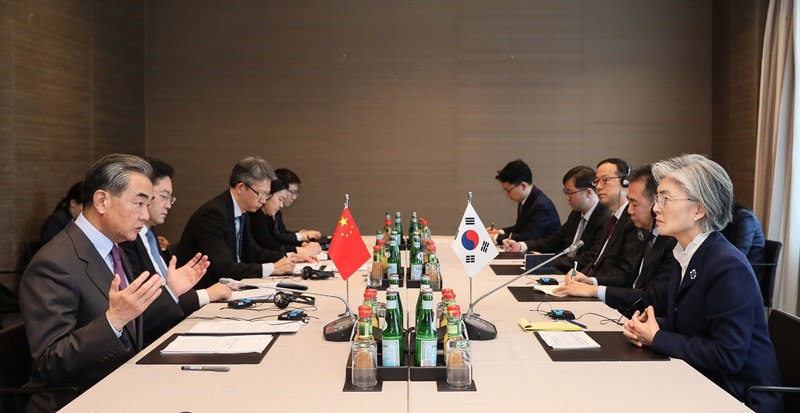 1. Minister of Foreign Affairs Kang, Kyung-wha, who is on a visit to Munich, the Federal Republic of Germany to attend the Munich Security Conference 2020, had a meeting with Mr. Wang Yi, State Councilor and Minister of Foreign Affairs of the People's Republic of China, at 15:30-15:50 on February 15 and exchanged views on issues of mutual interest, including communication and cooperation in combating the COVID-19 outbreak, high-level exchanges between the Republic of Korea and China, and the situation on the Korean Peninsula.

2. Minister Kang offered condolences to the victims of the COVID-19 outbreak in China, expressed hope that the situation would be brought under control swiftly and smoothly through active response of the Chinese government and Chinese people and asked for the Chinese side's continued cooperation in protecting Korean nationals and companies in China.

o State Councilor Wang explained that the Chinese government, including its leadership, and Chinese people are making all-out efforts to combat the outbreak, expressed appreciation for various support from the government and the private sector of the ROK, and said that China will continue to communicate and cooperate closely with the ROK in coping with the situation.


3. In addition, the two sides agreed to overcome the difficulties caused by the outbreak together and continue close consultations to push for this year's summit meeting and high-level exchanges, thereby solidifying the foundation for the friendship and stronger relationship between the ROK and China.


o To ensure that this year's summit meeting and high-level exchanges take the ROK-China relationship to a higher level, the two Ministers agreed to continue seeking a range of cooperation projects that can benefit the people of both countries through close consultations between the relevant authorities of the two countries.

o In addition, Minister Kang asked for the Chinese side's participation in the P4G Summit to be hosted by the ROK in June, and State Councilor Wang said that the Chinese side will look into the ROK's proposal.


4. The two Ministers reaffirmed the two countries' commitment to working together to make substantive progress in the peace process on the Korean Peninsula and agreed to continue close communication at various levels.

5. The ROK-China Foreign Ministers' meeting, which marked the tenth of its kind since Minister Kang's inauguration and came about 15 days after the telephone conversation between the two Ministers on January 28, served as an opportunity to maintain and strengthen close strategic communication between high-level officials of the two countries at a time when it is essential for the ROK and China to work together on current issues, including the fight against the COVID-19 outbreak.

Prev Bilateral Meetings between Minister of Foreign Affairs and her Danish, Spanish and German Counterparts Held on Occasion of 56th Munich Security Conference