HOME
Press
Ministry News
Ministry News
Ministry News 상세보기
Opening Remarks by President Moon Jae-in at Republic of Korea-Kingdom of Sweden Summit
Date : 2019-12-19 09:34:36
Hit : 1468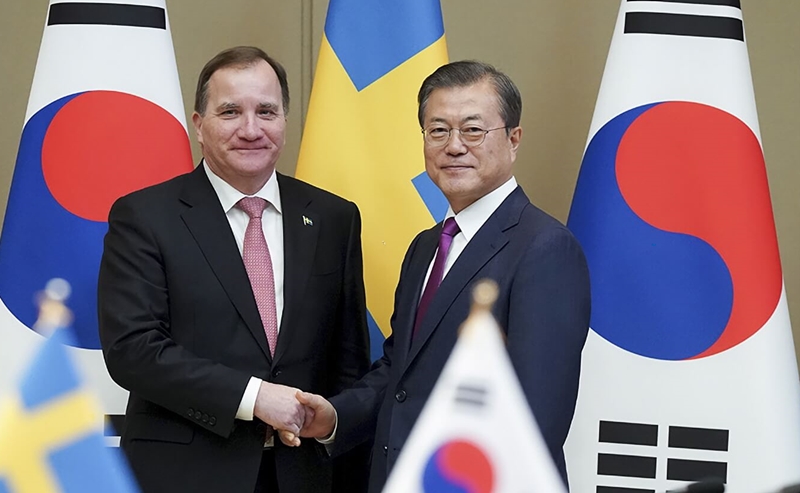 Opening Remarks by President Moon Jae-in at Republic of
Korea-Kingdom of Sweden Summit
December 18, 2019
(Unofficial Translation)

I am glad to meet with Prime Minister Stefan Löfven again in Korea in this significant year that marks the 60th anniversary of diplomatic ties between our two countries. It is the first visit to Korea in 15 years by a Swedish prime minister, but I believe he must be filled with personal emotions because he had visited Korea before in his capacities as chairman of IF Metall, the Swedish trade union, and leader of the Swedish Social Democratic Party. I am very pleased to reciprocate the hospitality extended to me as a state guest during my visit to Sweden. I join the Korean people in wholeheartedly welcoming the Swedish delegation.
In particular, I am grateful to the Prime Minister for coming to Korea with a large business delegation. At today's Korea-Sweden Business Summit, I could sense the passion that our two countries' business leaders have for economic cooperation.
While maintaining unmatched national competitiveness – having been ranked 2nd in the Global Innovation Index 2019 – Sweden is also achieving success in growth and welfare. I fully agree with what the Prime Minister has said, "Innovation occurs only when inclusiveness is possible," and the Republic of Korea desires to learn a lot from the Swedish model. I hope that the Prime Minister's visit will serve as an opportunity to help disseminate Sweden's Saltsjöbaden spirit, which has set an example for social grand compromise, here in Korea.
Over the past 70 years, Sweden and Korea have developed cooperation in many areas while deepening friendship and share the governing philosophy of "a nation where all people are happy." I look forward to seeing our bilateral cooperation expand beyond startups, future growth, ICT industries and the defense industry into the areas of gender equality and welfare.
My congratulations go to environmental activist Greta Thunberg for being chosen as Time magazine's Person of the Year, the youngest in history. Sweden's endeavor to become the world's first welfare state that phases out fossil fuel use will bring hope to the world. Korea will more closely cooperate with Sweden in environmental issues and other global tasks.
Sweden has always extended support for peace on the Korean Peninsula, for instance, by sending a medical support unit during the Korean War, working as a member of the Neutral Nations Supervisory Commission and dispatching a special envoy for the Peninsula. I express my heartfelt gratitude to Sweden for helping to arrange a dialogue in Stockholm between North Korea and the United States, and I believe that the efforts will bear fruit.
Thank you.
​
Prev FM Pays Courtesy Call on King Salman and Holds Meeting with Minister of Foreign Affairs Faisal