HOME
Press
Ministry News
Ministry News
Ministry News 상세보기
Foreign Minister and Vice Minister Attend 74th UN Day Commemorative Events
Date : 2019-10-25 13:44:15
Hit : 863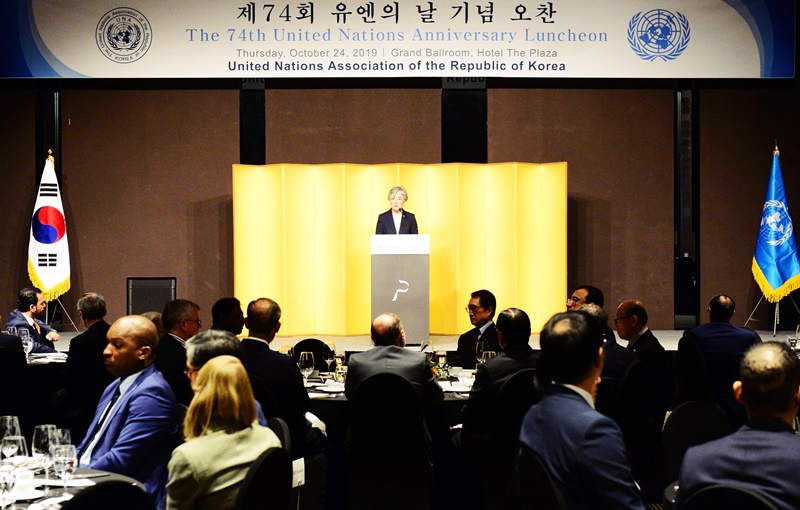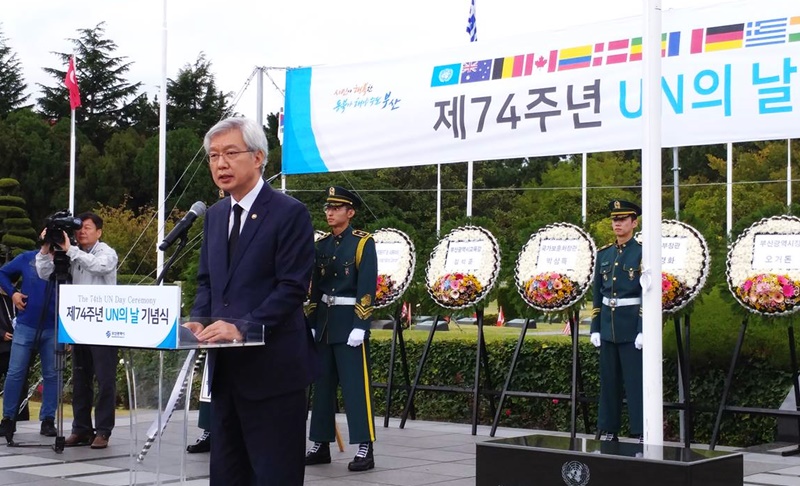 1. On Thursday, October 24, Minister of Foreign Affairs Kang Kyung-wha attended a commemorative luncheon marking the 74th anniversary of United Nations (UN) Day held at the Plaza Hotel, Seoul, hosted by the United Nations Association of the Republic of Korea (UNAROK), and delivered a keynote speech.

○ In her speech, Minister Kang expressed appreciation for the UNAROK's efforts to promote the work of the United Nations in Korea; reviewed the achievements of the UN over the last 74 years since its establishment; and introduced the ROK government's contribution for the UN's core values including international peace and security, women and human rights, climate change and sustainable development.


○ In addition, Minister Kang introduced initiatives led by the ROK government in the process of establishing lasting peace on the Korean Peninsula such as transforming the Demilitarized Zone into an international peace zone proposed by President Moon Jae-in in his address at the 74th Session of the UN General Assembly.

○ The commemorative luncheon brought together about 160 participants including diplomatic corps, representatives of international organizations in the ROK, government officials, the UNAROK's members, and people from academia and media outlets.


2. On the same day, Vice Minister of Foreign Affairs Lee Tae-ho attended the 74th UN Day Commemoration hosted by the Busan Metropolitan City at the UN Memorial Cemetery in Korea, and delivered remarks.

○ In his remarks, Vice Minister Lee expressed gratitude for the UN's assistance and veterans' sacrifice during the Korean War; conveyed the ROK government's willingness to continue its contribution to the UN; and asked the international community and the UN to work together in the process of establishing lasting peace on the Korean Peninsula.

○ Around 600 participants attended the Commemoration including descendants of the veterans who joined the Korean War, foreign diplomats, including ambassadors of participating countries in the Korean War and provincial government officials in Busan, including Mayor of the Busan Metropolitan City.
3. These commemorative events marking the 74th UN Day are seen to have served as meaningful opportunities to look back on the significance of the United Nations on the Korean Peninsula and search for ways to further develop the ROK-UN relations.

Prev "CAFE ASEAN" Comes into Full Operation to Mark D-30 before 2019 ASEAN-ROK Commemorative Summit