HOME
Press
Ministry News
Ministry News
Ministry News 상세보기
Remarks by President Moon Jae-in at First Session of 14th G20 Summit in Osaka, Japan
Date : 2019-06-29 16:14:09
Hit : 336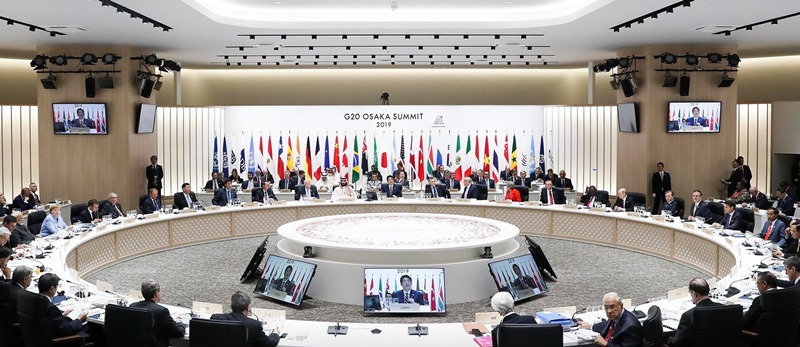 Remarks by President Moon Jae-in at First Session of
14th G20 Summit in Osaka, Japan
June 28, 2019
(Unofficial translation)

Thank you, Mr. Chairman.

The G20 has worked hard for a "human-centered future society." The Korean Government's visions of a "people-centered economy" and an "innovative, inclusive nation" are in line with the G20's goals.

Over the past two years, Korea has striven to create a country where all people prosper together based on the two pillars of "innovation" and "inclusiveness."

In order to respond to the socioeconomic divide, low birthrate and aging population, my Administration has focused on efforts to enhance economic "inclusiveness" by strengthening the employment and social safety nets, increasing childcare support and expanding national health insurance coverage.

My Administration has focused on the spirit of "innovation" in an attempt to prevent low growth from entrenched through such efforts as innovating manufacturing and fostering new industries, fueling a second venture boom and promoting innovative finance.

Consequently, positive changes have occurred. Investments in new business ventures and the number of newly established corporations have registered record highs. For the first time in the world, 5G commercial service has been launched. As such, an atmosphere conducive to innovation and taking on challenges is becoming widespread. The percentage of low-wage workers has dropped to the lowest ever, and the wage gap among employees has been narrowed. Increases in the number of people employed, which has been slow for a while, have recently indicated signs of recovery. Korea's economic scope has also broadened with per capita income now at US$30,000 and trade surpassing US$1 trillion.

Still, cooperation with the international community is indispensable for achieving the vision of the innovative, inclusive nation.

The world is now facing new challenges. Uncertainties and downside risks in the global economy are on the rise.

Some are voicing concern that it's become difficult to even forecast the future as the "new abnormal" age dawns over the "new normal" age when low growth was entrenched.

The IMF and OECD have recently lowered their outlooks for global economic growth, citing trade disputes and the spread of protectionist moves as the main reasons.

Now, the G20 needs to exercise its leadership again. These challenges cannot be tackled by individual countries acting on their own.

We have to find a way out of the "prisoner's dilemma," in which the global economy is being pushed toward a "contractionary equilibrium" due to trade disputes. We must move toward an "expansionary equilibrium" where free trade can benefit all. I hope that the G20 can play a pivotal role in this regard.

In addition, G20 member states have to preemptively respond to the downside risks of the global economy.

The Korean Government is also working hard for expansionary fiscal management.

Meanwhile, in response to uncertainties in the market, it is very important to solidify the global financial safety net. Most of all, the IMF should secure enough lending capacity to make it a seawall in times of crisis. All countries must pitch in to stabilize the financial market, including measures to shore up foreign exchange markets.

We all have to join forces to reform the World Trade Organization in a way that favors fair trade. Korea supports reforming the WTO for a free and fair trade order and will actively participate in relevant G20 discussions.

Thank you.
Next Korea-Russia Summit on Sidelines of G20 Summit in Japan
Prev Korea-France Summit on Sidelines of G20 Summit in Japan