HOME
Press
Ministry News
Ministry News
Ministry News 상세보기
FM Meets with US Secretary of State
Date : 2019-02-18 16:47:45
Hit : 665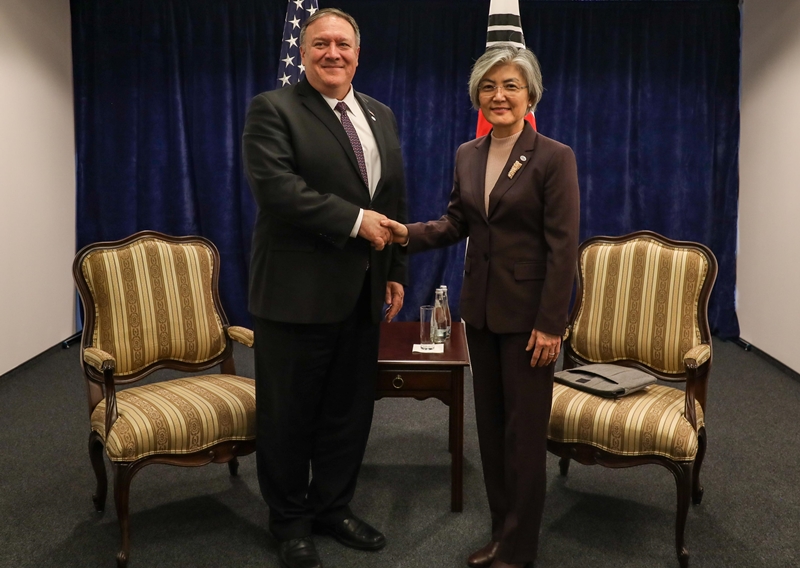 1. Foreign Minister Kang Kyung-wha met with US Secretary of State Mike Pompeo in Warsaw, the Republic of Poland, on February 14 (local time), and discussed ways the Republic of Korea and the United States can work together to make a success of the second US-North Korea summit to be held in two weeks.
o The Minister and the Secretary especially exchanged views on the recent progress regarding the second US-North Korea summit, including US Special Representative for North Korea Stephen Biegun's visit to the Democratic People's Republic of Korea. They also agreed to continue to consult more closely at each level during the remaining time to ensure a successful summit.
2. In addition, the two sides took note that the ROK and the US reached an agreement on the 10th Special Measures Agreement last week in a smooth manner based on close communications between the two sides, and reaffirmed their unchanging commitment to strengthening and advancing the ROK-US alliance.
o Minister Kang and Secretary Pompeo also agreed to work to make progress in denuclearization and the peace process on the basis of the firm security foundation of the ROK-US alliance.
* unofficial translation


Next FM Meets with Chairman of Executive Affairs Authority of Abu Dhabi