HOME
Press
Ministry News
Ministry News
Ministry News 상세보기
Foreign Minister Meets with US Secretary of State
Date : 2018-12-07 14:14:43
Hit : 2109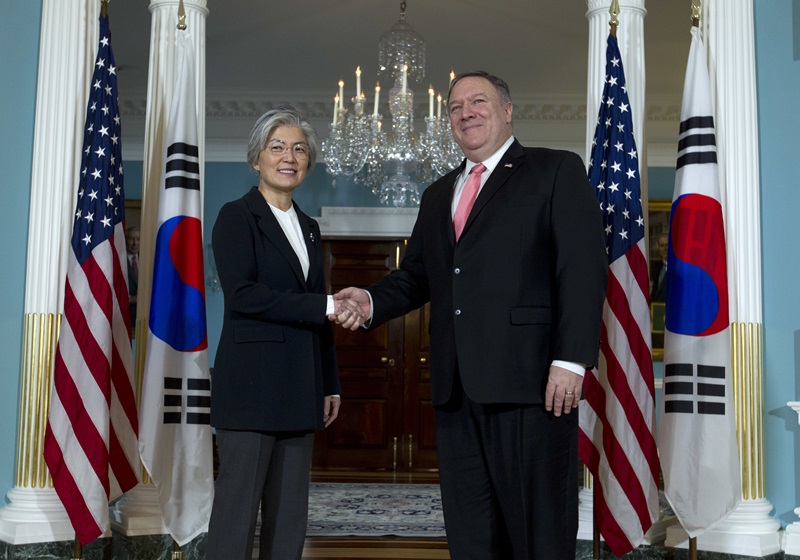 1. Foreign Minister Kang Kyung-wha, who is on a visit to the United States to lead a condolence delegation to the funeral of former US President George H. W. Bush, met with US Secretary of State Mike Pompeo on December 6 (local time), and discussed issues of mutual interest.
2. The Minister and the Secretary took note that close collaboration between the Republic of Korea and the US this year led to positive changes in the situation on the Korean Peninsula, and exchanged in-depth views on follow-up negotiations between the US and the Democratic People's Republic of Korea, and progress in inter-Korean relations. They also reaffirmed the importance of implementing existing sanctions, and agreed to continue to work together to completely denuclearize the Korean Peninsula, and to establish a lasting peace on the Peninsula.
3. In addition, the two sides noted that the ROK and the US had resolved a number of issues between the two countries in an exemplary manner in the spirit of alliance. Regarding the ROK-US consultations on defense cost-sharing currently underway, they agreed to continue to encourage the two countries' delegations so that they can produce results that satisfy both sides.
* unofficial translation


Prev The President and U.S. President Donald Trump Hold Summit