HOME
Policy Information
Public Diplomacy
Events
Events
Events 상세보기
8th Meeting of ROK-Italy Joint Cultural Committee (13 September 2018)
Date : 2018-11-22 16:03:23
Hit : 5063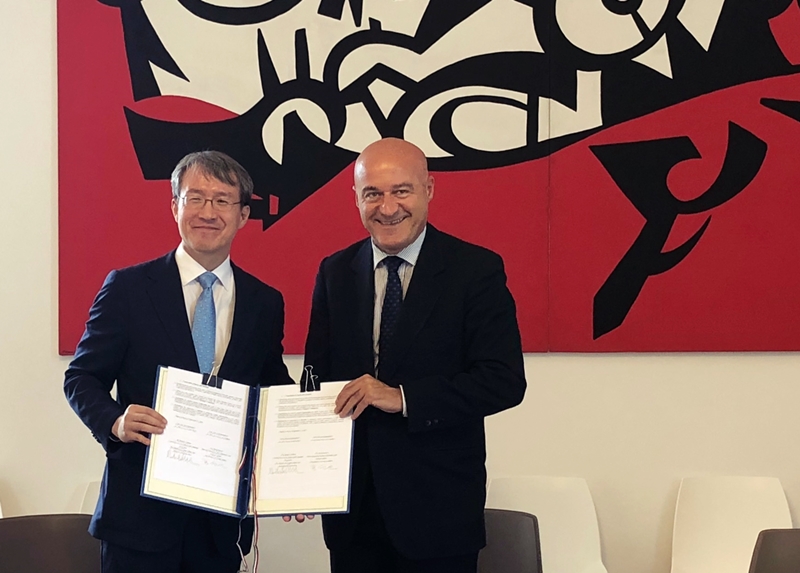 1. The 8th meeting of the Republic of Korea-Italian Republic joint cultural committee took place in Rome, Italy, on September 13, with Director-General for Public Diplomacy and Cultural Affairs of the Ministry of Foreign Affairs Hong Seok-in and Director-General for the Promotion of Culture and Language of the Italian Ministry of Foreign Affairs Roberto Vellano leading their respective delegations.
2. The two countries discussed ways to enhance cooperation between the ROK and Italian organizations in the arts and culture sector (museums, libraries, etc.); ways to cooperate in the film industry; cooperation in using Hanji (traditional Korean paper) for restoring and conserving cultural heritage made of paper; ways to promote Korean language/studies and Italian language/studies in each other's countries; facilitating student exchange programs between the two countries; strengthening cooperation in government scholarship programs; and ways to increase exchanges in the sports and tourism sectors.
o The two sides especially consulted on the Hanji Project, which has been carried out since 2015, and the Window on Korea, a Korea reference room inside a library at La Sapienza University of Rome. They agreed to work together to make sure that such efforts help increase cultural exchanges not only between the two countries, but also with other European countries.

3. They signed the Agreed Minutes of the 8th Italian Republic-Republic of Korea Joint Cultural Committee summarizing and confirming the fruitful discussions of the meeting.

Next 3rd Meeting of ROK-Kazakhstan Joint Cultural Committee to Take Place
Prev Members of the Consultative Committee on Cultural Diplomacy Selected for the 4th Term