HOME
Policy Information
Public Diplomacy
Issues
Issues
Issues 상세보기
Foreign Ministry to Hold ROK-Japan Concert Titled "Wear Culture" in Celebration of 20th Anniversary of Joint Declaration on New ROK-Japan Partnership
Date : 2019-01-02 14:48:03
Hit : 1048
1. The Ministry of Foreign Affairs will hold a Republic of Korea-Japan concert titled "Wear Culture" at the concert hall in the Centennial Memorial Hall at Yonsei University on December 12, 2018, to mark the 20th anniversary of the "Joint Declaration on a New ROK-Japan Partnership towards the 21st Century*."
* The Joint Declaration was adopted in 1998 by former ROK President Kim Dae-jung and former Japanese Prime Minister Keizo Obuchi.
2. The event will consist of two parts: book concert and music concert. In the first part to be held under the theme "a little empathy," Mitsuyo Kakuta, the author of the novel "Paper Moon," and Ito Ogawa, the author of the novel "Tsubaki Stationery Store," will talk with the audience about daily lives, happiness and stories of Japan in them.
3. In the second part to be held under the theme "reliable companion," Yang Bang-ean, a renowned musician active in the ROK and Japan, will lead joint performances with Japanese guitar duo Depapepe and Korean acoustic duo Lalasweet.
4. At the event, Ambassador for Public Diplomacy Bahk Sahng-hoon will deliver welcome remarks, and Ambassador of Japan to the ROK Yasumasa Nagamine will deliver congratulatory remarks.
o In his welcome remarks, Ambassador Bahk will express hope that the ROK and Japan will better understand each other, and strengthen friendship and mutual trust through people-to-people and cultural exchanges.
5. The Foreign Ministry has been actively pursuing public diplomacy using soft power. The Ministry will contribute to advancing the ROK-Japan relations in a future-oriented manner not only through the concert, but also through continued people-to-people and cultural exchanges between the two countries.
* unofficial translation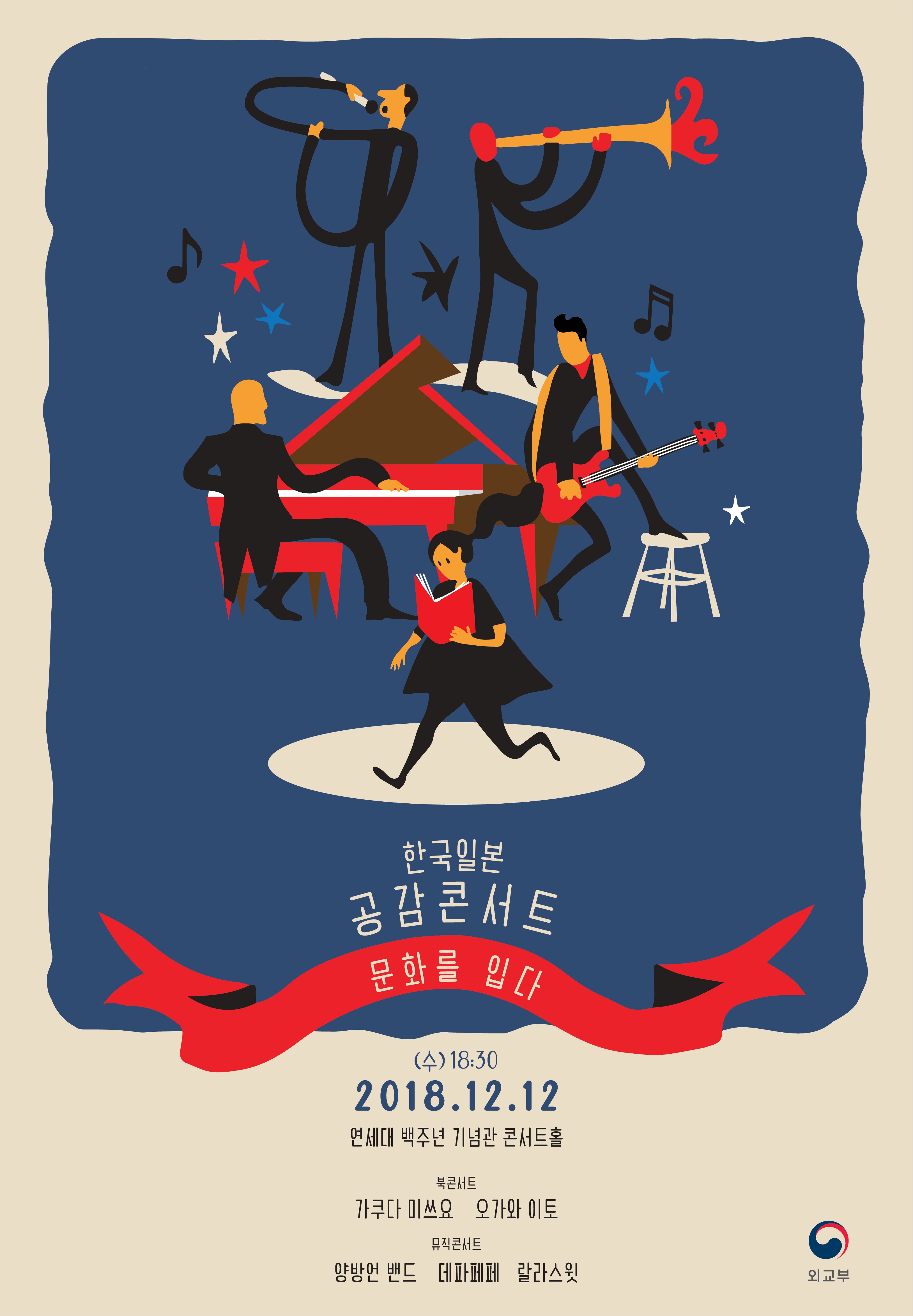 Next Topkapi Palace Museum in Istanbul, Turkey, to Start Offering Audio Guide Service in Korean
Prev "Traditional Korean Wrestling (Ssirum/Ssireum)" of Two Koreas Jointly Inscribed as Intangible Cultural Heritage of Humanity of UNESCO